Big Rubber Lego Hire
Children love Lego.  It's an indisputable fact.  And everyone loves things that are GIANT!  So why not take some Lego and make it giant?  Well, that's what we've done and that's why we have the Big Rubber Lego!  With pieces about the size of a house brick, in bright colours like red, green, blue and yellow, imaginations are able to run wild as all sorts of amazing creations start to take shape.
Build yourself a spaceship, a house, or a tower!  Or just go all Picasso and create something as abstract as you can, just becuase you like the colours.  And of course, Lego isn't just for the little ones - relive your youth and all the memories will come flooding back to you. Let your inner child out and get involved!
Each Big Rubber Lego Hire comes with 2 crates of Lego pieces, totalling around 70 bricks to play with, together with a spongy safety mat for builders to create on, so there's no sore knees at the end of it all.  The Big Rubber Lego is a great add-on to all kinds of events, but if you just want to hire it by itself, there's always the options to collect from our depot - the crates will fit into most sizes of car.
What events are the Big Rubber Lego Hire suitable for?
The safe, rubber nature of the Lego pieces and safety mat make this item perfect for young children so the Big Rubber Lego is very popular for children's parties and Fun Day where there are lots of little ones running about - but that's not all:
Fun Days
Promotional Events
Charity Events
Birthday Parties
Weddings
Shopping Centre Promotions
Key Features of the Big Rubber Lego Hire:
Approx. 70 pieces across two crates
Safety mat included
A nostalgic piece of fun for all ages
Lego was recently voted "The World's Number One Toy" so bring this extremely popular activity to your event and you'll find yourself building things you never thought possible!
Equipment included with Big Rubber Lego:
Approx. 70 brightly coloured bricks
1 x Safety Mat to play and build on
---
Equipment Size: 1.0m wide x 1.0m deep
Operational Area Required: 2.0m wide x 2.0m deep
Staff: adult supervision required (staff hire available)
Recommended Age/Height of Users: 7 years and under
Speak to a Fun Expert today to discuss the bespoke upgrade options available from additional equipment, branding, prizes, props and theming. As we own all our own equipment we have the flexibility to adapt equipment to suit your requirements.
I hired Giant Lego which was a real hit with the children (and some adults!) at our party. The service was great!
Esmee Grossman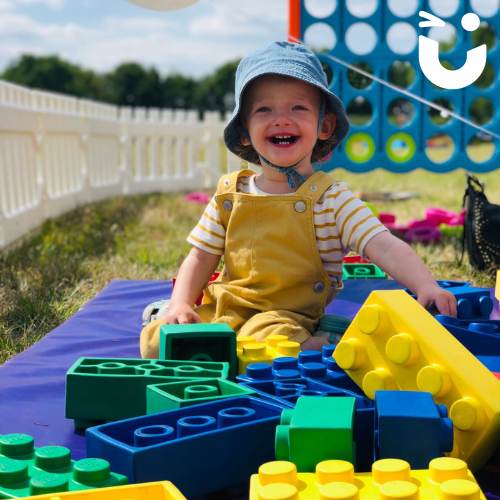 Big Rubber Lego Hire has been added to your Event Quote.
Close
Call the Fun Experts to discuss your event: