Ball Pool Hire
You'll find that the simple things in life are often thought to be the most perfect and most enjoyable parts of it.  Well, we introduce you to one of our simplest yet most popular pieces of equipment available to hire for younger children. Set your child or baby loose into the inflatable Ball Pool and watch as they have endless amounts of fun floating amongst the brightly coloured balls.
A simple little charmer, the Ball Pool promises safe, enjoyable fun for younger children who just want to lose themselves in a wave of multicoloured balls. Measuring 6-foot square, this amazing immersive experience is perfect for toddlers to explore and interact with - the coloured balls will certainly keep them enthralled for hours!
Made from a soft foam covered in a durable vinyl the Ball Pool Hire could also be collected from our depot or used as an additional item to a package of other fun children's entertainment, such as the Children's Clown Striker or the Children's Bouncy Castle.
What events are the Ball Pool Hire suitable for?
Lots of events have plenty of younger children at them and the Soft Play Area Hire is the perfect way to keep them happy.
Birthday Parties
Weddings
Shopping Centre Promotions
University / School Events
Corporate Family Fun Days
Fundraising Events
Promotional Events
Charity Events
Key Features of the Ball Pool Hire:
Soft foam structure
Comes with safety mats and hundreds of plastic balls
Supervision required
The fun begins when you bring the Ball Pool Hire to your event.  Pick up the phone and dial the fun Experts now!
Equipment Included in the Ball Pool Hire:
Purple Ball Pool
Assorted Ball Pool Balls
---
Equipment Size: 1.8m wide x 1.8m deep x 0.5m high
Operational Area Required: 2.8m wide x 2.8m deep
Staff: adult supervision required (staff hire available)
Number Of Users: 4
Recommended Age/Height of Users: 4 years and under
Upgrade, upgrade, come get your upgrades! With the Ball Pool adding tons of fun for the little ones, this piece of equipment makes for a great feature which can be increased more so with these upgrade options:
Giant Games Area - childhood classics such as Connect 4, Jenga, Snakes & Ladders and more get the giant treatment and with this additional hire, can add more gigantic fun to your event.
Soft Play Area - no Ball Pool is the same without soft play and upgrading your hire to this is sure to bring smiles and laughter to the kids (and big kids too!)
When speaking to the Fun Experts today, be sure to ask for more information on upgrade options for your event package.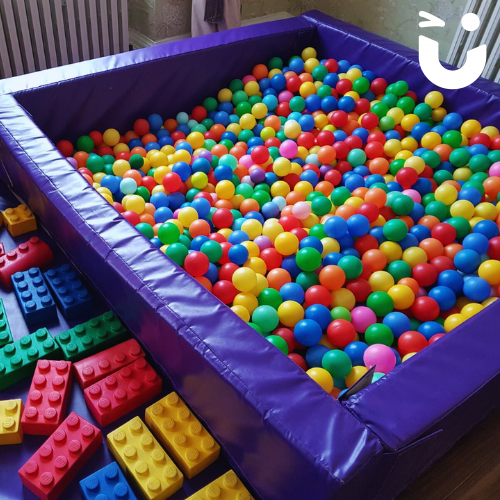 Ball Pool Hire has been added to your Event Quote.
Close
Call the Fun Experts to discuss your event: