Giant Snakes and Ladders Hire
Giant Snakes and Ladders Hire
In Ancient India, the game of Snakes And Ladders was used to demonstrate how virtue and vice can affect one's path through life before achieving true happiness. When it came over to England, it was adapted to reflect Victorian doctrines of virtue, but its real success lies in how much fun it really is!
Using your own body as a counter, you will need to progress around the board using dice-rolls, finding yourself confronted with 'ladders' allowing you to move ahead, or 'snakes' that will send you back along your path. Confident players will find their pride is short-lived when they land on the snake-head and are sent all the way back to square one!
Using the over-sized plastic mat and giant dice, the Giant Snakes And Ladders Hire is perfect for events with mixed age groups, as there is very little skills involved, as players rely on chance to complete the game - a bit like real life!  So round up a few willing players and start your journey amongst the snakes and ladders!
What events are the Giant Snakes And Ladders Hire suitable for?
The simplicity of the Giant Snakes And Ladders Hire makes it a popular hire at all kinds of events, with adults and children alike getting involved with this clever game of morality.
Fun Days
University Events
Promotional Events
Birthday Parties
Bar & Bat Mitzvahs
Exhibitions
Corporate Events
Team Building
Charity Events
Key Features of the Giant Snakes And Ladders Hire:
Hire as an additional item at your event or on its own as a collection item
Huge play mat with brightly coloured snakes and ladders board
Soft play dice
Whatever rules you follow to play the Giant Snakes And Ladders, you'll have a great time sliding down the snakes and climbing up the ladders, so give the Fun Experts a call today!
Equipment Included with Snakes and Ladders Hire:
1 x Snakes and Ladders Mat
1 x Large Dice
Pegs or Tape to secure mat to the ground
---
Equipment Size: 3.0m wide x 3.0m deep x 0.8m high
Operational Area Required: 4.0m wide x 4.0m deep
Staff: adult supervision required (staff hire available)
Number Of Users: 4
Recommended Age/Height of Users: 5 years and over
Speak to a Fun Expert today to discuss the bespoke upgrade options available from additional equipment, branding, prizes, props and theming. As we own all our own equipment we have the flexibility to adapt equipment to suit your requirements.
All our colleagues loved the Giant Games, it really made a difference to our BBQ!
Fran Hampton
2nd time that we have used The Fun Experts to supply Giant Games for our Staff Summer BBQ. Excellent service, good products at reasonable prices.
J Wells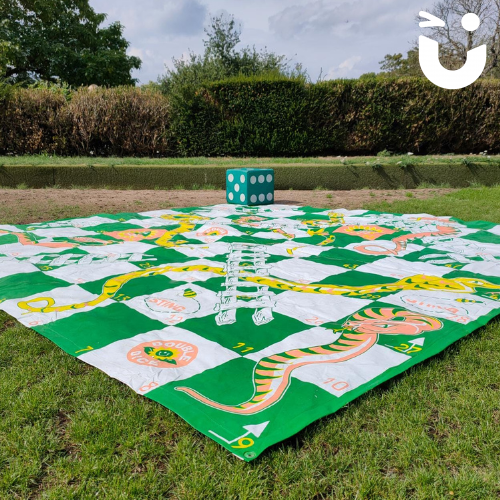 Giant Snakes and Ladders Hire has been added to your Event Quote.
Close
Call the Fun Experts to discuss your event: