Giant Draughts Hire
Draughts, or Checkers as it's called in the USA, is a game of strategy and cunning using black and white counters (known as 'men') across a chequered board, just like a chessboard.  There are many variants on the rules, but when played it's a simple task to capture all of your opponent's men before they do the same to you.
Only able to move diagonally forward, it can be a tough journey to the opposite side of the board where your piece will then become a 'king', allowing for the real thrills to begin as you are free to move diagonally all over the board. In some versions of the game, kings can become 'flying kings' able to move great distance across the board!
Using the huge 3m x 3m mat, the Giant Draughts Hire is a fantastically addictive game and works just as well at indoor events as those outdoors.  When packed away its compact nature allow clients to come to our depot to collect the game for themselves and return it after.
What events are the Giant Draughts Hire suitable for?
Young and old alike will find the Giant Draughts Hire a great activity to be enjoyed together so it's perfect for events with mixed age groups!
Fun Days
University Events
Sports Events
Team Building
Promotional Events
Birthday Parties
Bar & Bat Mitzvahs
Exhibitions
Corporate Events
Charity Events
Key Features of the Giant Draughts Hire:
Can be hired as a collection item, or delivered to an event
Huge playing mat
All pieces are included
Whatever rule system you use, you'll find the Giant Draughts Hire is a simple yet great fun game that will have your guests lining up to have a go and play the winner of the last game!
Equipment Included with Giant Draughts Hire:
1 x Giant Draughts Mat
12 x Giant Black Draught Pieces
12 x Giant White Draught Pieces
Pegs or Tape to secure the Draughts Mat
---
Equipment Size: 3.00m wide x 3.00m deep x 0.20m high
Operational Area Required: 4.00m wide x 4.00m deep
Staff: adult supervision required (staff hire available)
Number Of Users: 2
Recommended Age/Height of Users: 5 years and over
Speak to a Fun Expert today to discuss the bespoke upgrade options available from additional equipment, branding, prizes, props and theming. As we own all our own equipment we have the flexibility to adapt equipment to suit your requirements.
All our colleagues loved the Giant Games, it really made a difference to our BBQ!
Fran Hampton
2nd time that we have used The Fun Experts to supply Giant Games for our Staff Summer BBQ. Excellent service, good products at reasonable prices.
J Wells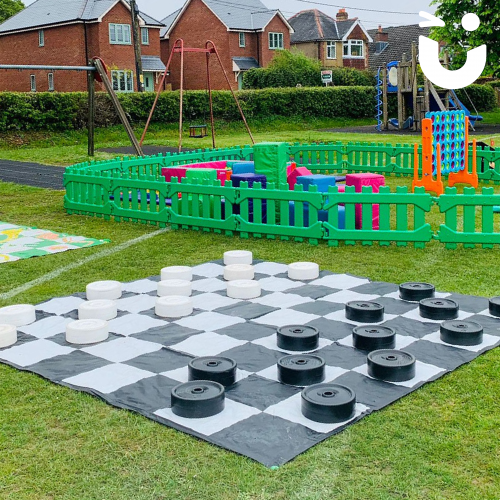 Giant Draughts Hire has been added to your Event Quote.
Close
Call the Fun Experts to discuss your event: