Giant Connect 4 Hire
Since it's invention in the 1970s, Connect 4 has become a household name when it comes to strategy-based board games. Your task is simple: drop the coloured counters in the frame until you achieve 4-in-a-row.  You'll need all your wits about you as you try and create your own winning row, meanwhile your opponent is doing the same - don't let them get the upperhand!
Our Giant Connect 4 brings all the fun and excitement of the tabletop game to your event, only on a much bigger scale! Using the huge frame, over a metre wide, you can drop the coloured quoits into the slots and try and your best to become the winner. As the Giant Connect 4 is made from a durable plastic it's lightweight and even small children can challenge the adults in a quick game.  Once the victor emerges, simply allow the quoits to drop out the bottom and start all over again!
The Giant Connect 4 is such a popular game that it's often one of the items that customer come and collect from our huge depot!  The frame dismantles to make it easy to get into a car and the quoits are boxed up for easy storage.  It's never been easier to bring this great activity to your event!
What events are the Giant Connect 4 Hire suitable for?
The versatile nature of the Giant Connect 4 make it available for all kinds of events - it doesn't even need to be staffed: you can just leave it for people to play by themselves!
Fun Days
University Events
Sports Events
Team Building
Promotional Events
Birthday Parties
Bar & Bat Mitzvahs
Exhibitions
Corporate Events
Charity Events
Key Features of the Giant Connect 4 Hire:
A great add-on to most events, or can be collected if hired on it's own
All the pieces included
Lightweight and easy to dismantle and put back together
Did you know?  There was once a rumour that Connect 4 was invented by none other than David Bowie… it turned out to be false, but just imagine if it were true!
Equipment Included with Connect 4 Hire:
1 x Connect 4 Frame
20 x Green Pieces
20 x Yellow Pieces
Storage Box for Coloured Pieces
* please note colours may vary from those shown in the photographs
Equipment Size: 1.2m wide x 0.5m deep x 1.0m high
Operational Area Required: 2.2m wide x 1.5m deep
Staff: adult supervision required (a fun expert is available)
Number Of Users: 2
Recommended Age/Height of Users: 5 years and over
Speak to a Fun Expert today to discuss the bespoke upgrade options available from additional equipment, branding, prizes, props and theming. As we own all our own equipment we have the flexibility to adapt equipment to suit your requirements.
All our colleagues loved the Giant Games, it really made a difference to our BBQ!
Fran Hampton
2nd time that we have used The Fun Experts to supply Giant Games for our Staff Summer BBQ. Excellent service, good products at reasonable prices.
J Wells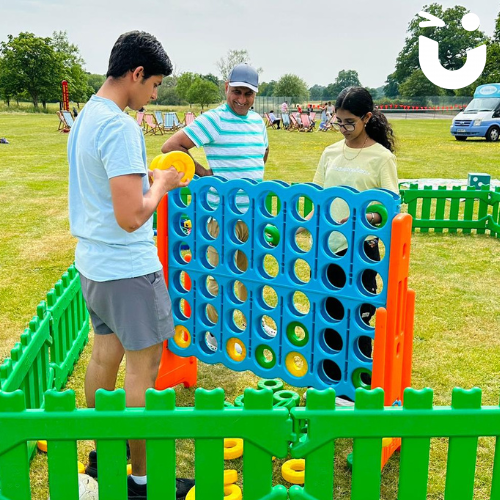 Giant Connect 4 Hire has been added to your Event Quote.
Close
Call the Fun Experts to discuss your event: