Christmas Themed Photo Booth Hire
Christmas Themed Photo Booth Hire
If you've come across our Christmas Themed Photo Booth Hire, then there's a very strong chance that Christmas is right around the corner!
Add the festive spirit to your event and have your guests capture the true magic, memories and beauty of Christmas with our  fun-tastic Themed Photo Booth.
With a selection of Christmas themed props to use, there will be no shortage of guests lining up to take turns at striking a pose and taking home their very own Christmas Kodak moment courtesy of your Fun Experts!
With the magic of chroma key technology you can now choose from over 1000 background themes, colour styles and print layouts. You can also choose between colour, black and white or sepia prints.  
Choose a little something from the prop box and strike a pose and then 4 separate photos are taken. Ta-dah a few seconds later your prints are ready to take as you leave the booth. Unlimited prints - USB with all images - Guest Book - Prop Box .
Choose from one of the 12 options using the built in touch screen display: 3D Booth - become immersed in the photo with background and foreground images... putting you in the middle of the action Big 'Edz - hilarious fun as your heads appear on diddy funky bodies Magazine Cover - become a celebrity on the front cover of your own magazine Pop Art - create your own pop art style prints Wish You Were Here - create a postcard using the booths unique randomisation system to pick one of more than 100 random worldwide landmarks Celebrations - select one of 7 including Christmas, Birthday, Halloween, Valentine's, Guy Fawkes Time Machine - move back in time from The Wild West and Prohibition to Ancient Egypt and the Age of Piracy Around The World - what better way to travel than with our backgrounds to Africa, America to name but a few!
Photo Booth Lottery - feeling lucky? Let the booth choose the mode for you Green Screen Booth - select from 10 themed green screen backgrounds Custom - allow us to create a bespoke design just for you Classic Booth - choose a curtain colour for that classic photo With a choice of booth exteriors (including the option to personalise and brand), our Photo Booths are incredibly popular at corporate events, weddings and parties.
We can also personalise your prints with logos and messages on request. Our Green Screen Dream Machine Photo Booths have everybody wanting to be snap happy creating and taking home perfect memories from your event.
Invite us to be the entertainment with our charismatic operators, funky props and state of the art equipment! Our Photo Booths are fantastic but don't just take our word for it... have a look at our Photo Booth Gallery.

Equipment Included with the Green Screen Dream Machine Photo Booth Hire:
Unique Green Screen Dream Machine chroma key technology with touchscreen monitors!
Unlimited instant  5" x 7" prints!
Instant USB full of all your images
A fully trained 'Fun Expert'
Personalised message or logo options
Exceptional props stand beaming with groovy hats, glasses etc. 
2m Red Carpet
White Picket Fencing
1 x Snowman prop
1 x Christmas Tree
Set of Sparkly Prop Presents
Additional Christmas Props available on request
Equipment Size: 2.3m wide x 1.3m deep x 2.1m high
Operational Area Required: 3.3m wide x 2.3m deep x 2.2m high
Power: standard socket required (generator hire available 6.5kva)
Staff: trained assistant provided
Number Of Users: 5
Access Requirements: please note that a width of 0.82m is required when moving the equipment through doorways and corridors. If you feel that access may be an issue, such as stairways or lift access, uneven surfaces, obstructions or perhaps long distances then please mention this in your enquiry. The Photo Booth does need to be set up in an inside area. Should you have any questions regarding this then please ask at the time of enquiry.
Bringing so much Christmas cheer to your event already, you can really enhance the festive feel with these upgrades to the Photo Booth hire this Christmas:
Bespoke Photo Booth Skins - already featuring some fantastic choices to decorate your booth, you may want to add your own bit of sparkle to the Photo Booth with your own design of panels to surround the booth.
Branded Prints - the technology of the booths allows us to upload a print design bespoke to your requirements.
Additional Theming & Props - with a selection of Christmas props to add some magic to the Photo Booth experience, you may want to bring even more merriment to your event this Christmas.
Speak to the Fun Expert today to discuss how you can benefit from these bespoke features for your event.
The Photo Booth was fantastic, the equipment excellent and all guests thoroughly enjoyed themselves.
Lynne Jopling
The Photo Booth was so much fun and I was impressed that we got a pen drive of all the pictures and a photo album too!
Fiona
I was particularly impressed that each person in the Photo Booth received a printout!
Louise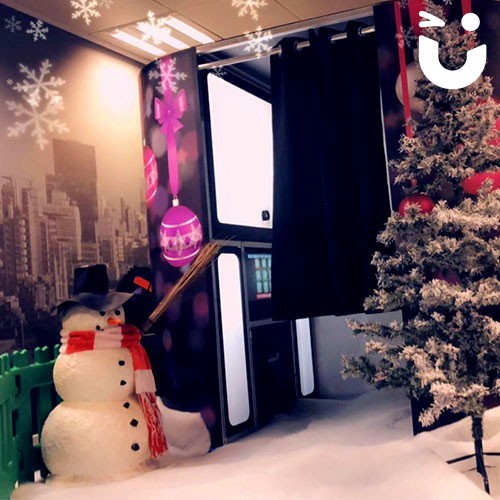 Christmas Themed Photo Booth Hire has been added to your Event Quote.
Close
Call the Fun Experts to discuss your event: