Christmas Funfair Target Stall Hire
Christmas Funfair Target Stall Hire
One of the latest in our collection of Christmas stall ideas! After a successful Summer of fun day events, we found a true winner in the form of our Funfair Target Stall, and we felt it only right to extend the sharpshooting fun right through the festive period as we unveil our brand new Christmas Funfair Target Stall!
Using the same high-powered crossbows, you can take aim and fire the sucker-arrows at the various targets on the backboard, decorated with all sorts of Christmas-themed paraphernalia such as dancing penguins, snow-globes and gingerbread men!  Just pull the trigger and if you can land your arrows on the target there's a whole host fun Christmas novelties to win!
Safety is paramount at The Fun Experts, so the ChristmasChristmas Fair is one that we would always ensure a The Fun Experts Fun Expert will staff, to ensure the safe use to the crossbow.
All of our Christmas Funfair Side Stalls come with 50 novelty prizes to hand out to those lucky enough to master their wobbly pole and beat the game.  There's funny Santa hats, Candy Canes, festive funny glasses and much more besides!
What events is the Christmas Funfair Target Stall Hire suitable for?
The Christmas Funfair Target Stall is a great addition to all kinds of Christmas events for young and old.  There's great fun to be had as you line up your shot and go for broke!
Christmas Parties
Corporate Events
Fundraising Events
Shopping Centre Promotions
University and School Events
Santa's Grottos
Key Features of the Christmas Funfair Target Stall:
Christmas Themed Target Board
50 x novelty prizes
Trained Fun Expert
Great indoors or outdoors… even in a bit of rain!
Take aim and fire with the Christmas Funfair Target Stall this year, so give the Fun Experts a call and get your hands on the popular side stall attraction!
Equipment Included with Christmas Funfair Target Stall Hire:
1 x Red and White Striped Stall & Festive Frontage
Christmas Themed Target backboard
Toy crossbows and sucker darts
50 x Christmas Novelty Prizes
Equipment Size: 2.14m wide x 2.14m deep x 2.14m high
Operational Area Required: 3.14m wide x 3.14m deep x 2.14m high
Power: standard socket if lighting required (if lighting is required)
Staff: adult supervision required (a fun expert is available)
Number Of Users: 1
Recommended Age/Height of Users: 5 years and over
Access Requirements: please note that a width of 0.82m is required when moving the equipment through doorways and corridors. If you feel that access may be an issue, such as stairways or lift access, uneven surfaces, obstructions or perhaps long distances then please mention this in your enquiry.
Not only do you have the option to upgrade your pacakge with additional fun Christmas products - the Christmas Funfair Party Package may be a step in the right direction - you can also personalise your hire of the Funfair Target Stall...
Bespoke Branded Banner - even though it features a festive design, the front banner of the stall can be upgraded to a bespoke version more fitting to your Christmas event if you require.

Additional Prizes

- each stall hire comes with 50 festive themed prizes for your guests. If you're expecting a bigger footfall at your event, you may want to enquire about adding more prize packages to your hire.
Christmas Theming & Props - with a vast array of festive themed props from comical Reindeers to Snowman, Christmas trees and more, you can add even more Christmas cheer to your event when adding to your event package.
Speak to the Fun Experts today and discover how these upgrades to your hire can add even more magic to your Christmas event.
The stalls were great quality and fun!! The guys were friendly and helpful! Would use again and recommend.
Emma Robinson
Thank you for making our Christmas Party the best we've ever had!
Carol Smethurst
The fun fair stalls are very addictive and a great laugh. I would definitely use The Fun Experts in the future and would recommend to all.
Chris King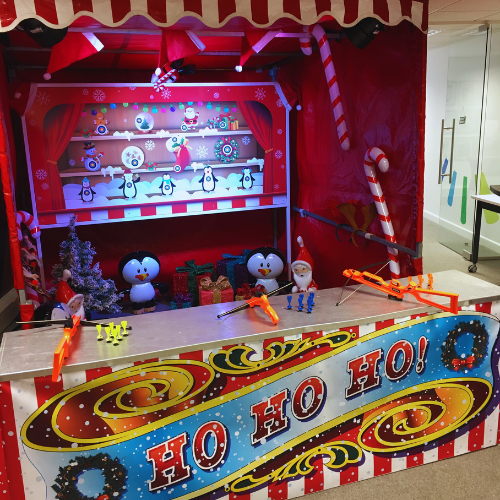 Christmas Funfair Target Stall Hire has been added to your Event Quote.
Close
Call the Fun Experts to discuss your event: