A Christmas Proposal | The Fun Experts®
---
Let's be honest... everyone loves a good old love story, especially at Christmas time and recently The Fun Experts helped one client to make his Christmas wish come true and put together an event that even gave Hallmark a run for its money!
---
Back in October, our client, Matt, got in touch with us looking to recreate a festive themed fun fair in his own back garden with one goal in mind: creating the perfect atmosphere to propose to his girlfriend of ten years and Fun Expert Beth was eager to assist him in doing just that! With a lot of planning, the pair of them put together the package that was sure to get Matt a "Yes!" as well as being a complete surprise for his partner despite us setting up at their shared home. 

On the day of Matt's event, Fun Expert David headed to Milton Keynes, where the couple live, and went undercover to ensure the event was top secret. Travelling in an unbranded van and calling Matt along the way to ensure his girlfriend was out of the house, David made it without his cover being blown and began setting up some festive fun. Matt selected our Christmas Pudding Shy, Hoopla and Snowball in a Bucket Side Stalls along with our Test of Strength to be the entertainment for the night and by the time his partner arrived home everything was up and ready for him to pop the question. I'm sure by now you're dying to know what happened when he got down on one knee... we can confirm that she said yes! And to top it all off, the couple were joined by friends and family to celebrate with our festive games. It truly was a magical night from all accounts!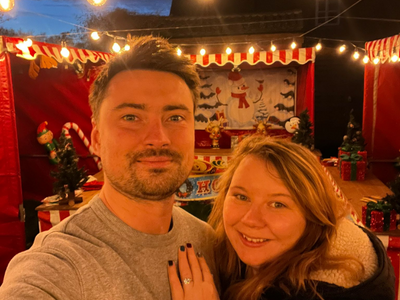 Fancy some Christmas magic of your own? You don't have to be proposing! We have a whole variety of festive equipment suitable for all kinds of events across the festive season and you can view the whole range of fun Here!