Christmas Pudding Shy Stall Hire
Christmas Pudding Shy Stall Hire
Never ones to rest on our laurels, we've had the Fun Expert elves hard at work building brand new Christmas Side Stalls give our already extensive range of funfair side stalls that festive twist!  The funfair theme has become one of our most popular themes for Christmas fairs, events, corporate parties and everything that needs the Christmas feeling.
If you're not familiar with the Pudding Shy game, you'll soon get the hang of it - but if you need some refresher tips from the Fun Experts, a strong throwing arm with precision aiming skills and a whole heap of determination is all you need.
We'll give you five snowballs (don't worry not the real cold ones) and the aim of the game is to knock off the Christmas Puddings… ok, they're not real Christmas Puddings, just beanbags decorated like the tasty Christmas dessert.  But all it takes is one misjudged throw and that Pudding will be going else were and it's all over!
All of our Christmas Side Stalls come with 50 novelty prizes that the Fun Expert Elves hand out to those lucky enough to bag a pudding and come out a victor.  There's no shortage of festive prizes that include funny Santa hats, candy canes, festive funny glasses and many more.
What events is the Christmas Pudding Shy Stall Hire suitable for?
The Christmas Pudding Shy Stall Hire is a great addition to all kinds of Christmas events where you want to bring something different to your guests. 
Christmas Parties
Corporate Events
Fundraising Events
Shopping Centre Promotions
University and School Events
Santa's Grottos
Equipment included with Christmas Pudding Shy Stall Hire:
1 x Red and White Striped Stall
1 x Stall front with brightly coloured and named banner
5 x Pudding Stands and Base
Bean Bags
Christmas theming
50 x Festive Prizes
Equipment Size: 2.14m wide x 2.14m deep x 2.14m high
Operational Area Required: 3.14m wide x 3.14m deep x 2.14m high
Power: standard socket (if lighting is required) (generator hire available)
Staff: adult supervision required (a fun expert is available)
Number Of Users: 1
Recommended Age/Height of Users: 5 years and over
Access Requirements: please note that a width of 0.82m is required when moving the equipment through doorways and corridors. If you feel that access may be an issue, such as stairways or lift access, uneven surfaces, obstructions or perhaps long distances then please mention this in your enquiry.
Not only are there some fantastic ways to upgrade you package with additional products as seen in 'You May Also Like' below, you can upgrade the hire of your stall with the following:
Bespoke Branding - the stalls are open to some fantastic branding options with front banner creating the perfect canvas. If you're wanting to promote your company brand or simply add something special to your hire, the branding of the front stall banner is the perfect option.
Additional Prizes - every stall comes with a complimentary 50 novelty prizes - in the case of Coconut shy, it's a lovely coconut! Do you know the footfall for your event; have you got an extended guest list? Make sure your guests walk away with a prize and enquire about our additional Prize Packages.
When speaking to the Fun Experts today, don't shy away from asking how you can upgrade your package.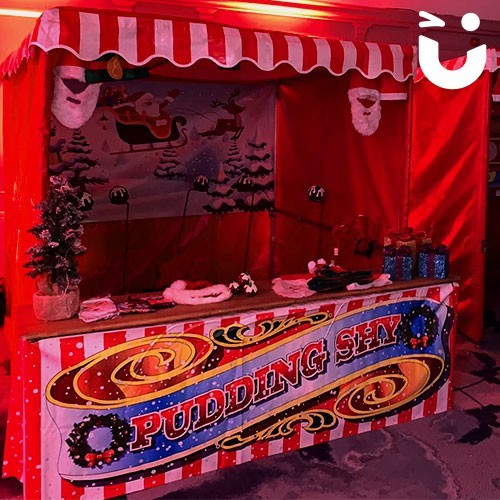 Christmas Pudding Shy Stall Hire has been added to your Event Quote.
Close