Test Of Strength Hire
"Step right up and test your strength!" Young men around the world will always be drawn to the Test of Strength machine at the funfair, if only to show off their physical prowess to their prospective paramores and win them a cuddly toy. In the olden days, even the strongest of contenders would find that their best hammer strike wasn't good enough as the metal puck barely makes it up the backboard, as operators would rig the game, sometimes allowing a smaller contender to ring the bell.
Decorated in bright red and yellow, our Test of Strength resembles the traditional high strikers that you might see at funfair and carnivals throughout the ages, complete with rubber mallets to swing and hit the target.  But you may want to put in a few hours down at the gym before taking hold of the hammer and trying to make the bell ring.
Due to its small 'footprint', the Test of Strength is a very popular option for exhibitions where floor space is limited. We can also brand the Test of Strength by applying vinyl stickers to the base and board showing off your company and reinforcing your campaign. The ringing of the bell will draw people to your stand, so only right that the visual aspects of the Test of Strength should be in keeping with your brand image.
What events are the Test of Strength Hire suitable for?
The popularity of the Test of Strength cannot be understated, as it appears at all kinds of events, from weddings  to fun days!
Fun Days

University Events

Sports Events

Birthday Parties

Children's Parties

Team Building

Promotional Events

Charity Events

Exhibitions

Weddings

Shopping Centre Promotions
Key Features of the Test of Strength Hire:
Traditional style high striker
Mallets included
Can be branded for your campaign
So give it your best try and you might find that you're stronger than you thought! Give the Fun Experts a call today, Hercules!
Equipment Included with Test Of Strength Hire: 1 x 10ft High Striker 1 x Target Base 3 x Lump Hammers
---
Equipment Size: 0.6m wide x 0.6m deep x 3.0m high
Operational Area Required: 2.6m wide x 2.6m deep x 3.0m high
Staff: adult supervision required (staff hire available)
Number Of Users: 1
Recommended Age/Height of Users: 9 years and over
Access Requirements: please note that a width of 0.82m is required when moving the equipment through doorways and corridors. If you feel that access may be an issue, such as stairways or lift access, uneven surfaces, obstructions or perhaps long distances then please mention this in your enquiry.
Speak to a Fun Expert today to discuss the bespoke upgrade options available from additional equipment, branding, prizes, props and theming. As we own all our own equipment we have the flexibility to adapt equipment to suit your requirements.
Our guests thoroughly enjoyed the Funfair Stalls and have commented on how it gave the party a really fun feel. Thanks so much for adding the FUN to our event!
Jason Wouhra
The stalls were great quality and fun!! The guys were friendly and helpful! Would use again and recommend.
Emma Robinson
The staff were extremely friendly and more importantly: very fun!! Thank you... you guys made our event!
Olivia Hall
The fun fair stalls are very addictive and a great laugh. I would definitely use The Fun Experts in the future and would recommend to all.
Chris King
The highest compliment that I can pay to The Fun Experts and their excellent staff is that I have used them for my Fun Day for the past four years!
Barry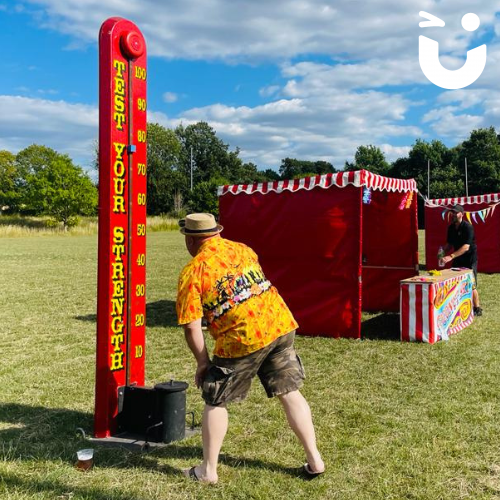 Test Of Strength Hire has been added to your Event Quote.
Close
Call the Fun Experts to discuss your event: