6 Weeks of Summer!
---
Back in your school days, you probably waited all year for the summer holidays to arrive and now of course, there's just no such thing as six weeks off. We'd hate for you to spend them stuck in the office feeling like you're missing out on the fun, so in this blog post we'll be sharing six ways you can add some excitement to your day job over the next six weeks...
1. Team Building Day
If you have children of your own, you will of course have attended the infamous school sports day recently. Well now it's your turn! If you thought the parent race wrote you off for the rest of the year, it's time to get those trainers back on and make the most of the last bit of sunshine, as now we're midway through the year, it's the perfect time to hold your Team Building Day. We've got a variety of packages available to inspire your plans, which along with our fabulous sales team make for a smooth and simple event planning process. Our Team Activities include the Sports Day classics like Egg and Spoon and Sack Races, competitive Inflatable Challenges and the option to change things up and take the fun indoors should the weather take a turn for the worse.

2. A Sweet Treat
What's a better way to pick your team up than with the sound of our Ice Cream Bike ringing outside the office on a summers afternoon? Our impressive bike complete with parasol, multiple flavours and toppings to choose from and a Fun Expert dressed for the occasion will have your staff lining up for one of our tasty ice cold treats. We're keeping our fingers crossed for some more sunshine this summer so that our Ice Cream Bike can continue to thrive!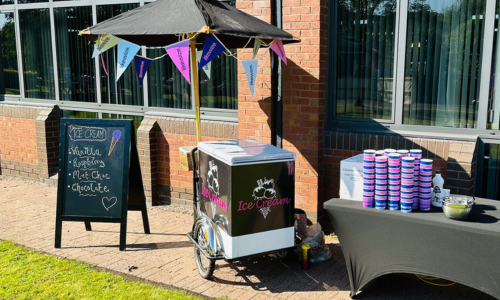 3. Family Fun Day
At The Fun Experts, we're currently gearing up to our very own Family Fun Day, an annual event where our staff are invited to bring along their partners and children for an evening full of awards, entertainment and generally seeing some of the fun we get up to at work. This of course leads us onto our third idea, holding a Fun Day for your staff where you can bring your families together one evening after work for some exciting entertainment - all with the help of our various Inflatables, Side Stalls, Funfair Rides and more. You bring along your families, we bring the fun!

4. Staff Social
You might not be jetting off to Vegas any time soon (if you are, I'm jealous!) but The Fun Experts have the next best thing! Have some fun of your own this summer holidays and let loose with our Casino Party Package complete with Blackjack and Roulette Tables, Las Vegas Backdrop, Red Carpet and Magic Selfie Mirror that will have your colleagues feeling like VIPs for the night. 
5. Office Entertainment
It's important to have some fun during your working day, so what better way for you and your colleagues to relax and relieve stress than with a couple of our Indoor Interactive Games. It could be the Maze Runner Challenge, Atari Pong Table or Strike A Light Hire, no matter which you opt for, any one of our games will slot perfectly into your office space. Enabling your colleagues to go head to head with a round or three will encourage them to take some necessary time out and bring out those competitive sides that will brighten up your 9-5s. 

6. Taking Time Off
Whether you take an early finish to spend some quality time with the kids or enjoy a lovely week off in sunny Spain, the summer holidays are the perfect time for you to take some well deserved time off. We're all for working hard at The Fun Experts, especially with summer being some of our busiest months, but playing hard is so important too, which could mean enjoying days out and summer activities or making the most of some me-time and relaxing in the sunshine with a cold drink! 
---
And that wraps up our six fun ideas for enjoying the summer holidays! To keep up to date with how we spend the next six weeks, make sure you're following us on LinkedIn, Instagram and Facebook and if we've inspired your summer plans, Contact The Fun Experts to kick the into action!