Ice Cream Bike Hire
Everyone has their favourite flavour of ice cream: is it vanilla?  Chocolate?  Or perhaps mint chocolate chip? And there's always all the sprinkles and sauces to slather over the top if that's what takes your fancy. Either way you can rely on The Fun Experts to bring you the best in delicious ice cream to your event!
Served from the amazing, traditional-style, three-wheeled bicycle, with the huge freezer compartment on the front, our ice cream comes on superb Italian wafer cones, filled with ice-cold delights.  We always include enough for 100 portions on all of our Ice Cream Bike Hires so you can be sure that everyone will get to sample our wares.
Supplied with a fun expert (dressed in a red & white pinny and straw boater!) to make and serve the ice cream cones, the Ice Cream Bike is the best way to keep your cool this summer.
What events are the Ice Cream Bike Hire suitable for?
The Ice Cream Bike is perfect for weddings with a vintage vibe, or perhaps a corporate event where you want to hand out some treats to your staff?
Weddings
Beach Themed Events
Fun Days
University Events
Promotional Events
Birthday Parties
Bar & Bat Mitzvahs
Exhibitions
Corporate Events
Charity Events
Key Features of the Ice Cream Bike Hire:
100 portions included
Choice of flavours, sauces and sprinkles
Fun expert to make and serve the ice cream
And of course, if you wanted to supply your own frozen fancies for the Ice Cream Bike, we would be happy to serve these too!
Equipment Included with Ice Cream Bike Hire:
1 x Ice Cream Bike
Selection of Ice Cream (chosen at time of booking)
Ice Cream Cones, Sauces and Sprinkles
Ice Cream Server Dressed in Traditional Clothing 
Also Known As: Ice Cream Tricycle, Ice Cream Trike, Ice Cream Bicycle, Ice Cream Cart, Ice Cream Van
---
Equipment Size: 2.5m wide x 1.1m deep x 1.0m high
Operational Area Required: 3.5m wide x 2.1m deep
Power: for long periods of hire standard socket required (generator hire available 6.5kva)
Staff: trained operator provided
Access Requirements: please note that a width of 1.2m is required when moving the equipment through doorways and corridors. If you feel that access may be an issue, such as stairways or lift access, uneven surfaces, obstructions or perhaps long distances then please mention this in your enquiry.
A fantastic feature on it's own, the Ice Cream Bike hire can become more of a feature if you were to upgrade you hire to a package:
Additional Fun Foods - with Candy Floss, Popcorn and Pick n Mix, we have a selection of Fun Foods that will add even more sweetness to your event.
When you're speaking to the Fun Experts today, ask how we can upgrade your package to include even more crowd pleasing options to your event.
The staff were extremely friendly and more importantly: very fun!! Thank you... you guys made our event!
Olivia Hall
I have had 5 events through The Fun Experts. They all went really well and the staff were very helpful. I would definitely HIGHLY RECOMMEND!.
Sam Spencer
The highest compliment that I can pay to The Fun Experts and their excellent staff is that I have used them for my Fun Day for the past four years!
Barry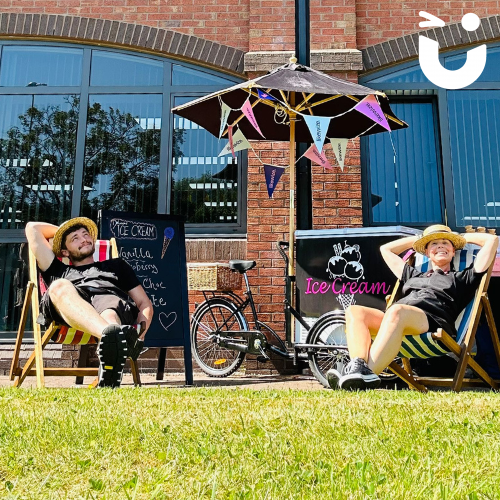 Ice Cream Bike Hire has been added to your Event Quote.
Close
Call the Fun Experts to discuss your event: