Boom 'Balloon' Blasters Hire
Boom 'Balloon' Blasters Hire
You've never seen anything quite like our Boom Blaster Balloon Buster Game!  See the addiction take hold when two players frantically pump away as they try to inflate their balloon the quickest and make it go BOOM as it hits the balloon bursting arcs. The first to burst wins; it's that simple and it's that fun!  We guarantee a fun evening of entertainment with this balloon popping game; just be sure to hire enough balloons for your event because once you pop, you can't stop.
The Boom 'Balloon' Blasters Hire is a great competitive game that would be at home at a Team Building event, either as a one-on-one battle where two team race to burst more balloons that their opponents or as a timed team relay event where team members take turns to burst as many balloons as they can in an allotted time.  Or there's always the option to just let it rip and go mad, bursting balloons like there's no tomorrow!
Every Boom 'Balloon' Blasters Hire comes with loads of balloons to blow up and burst so you won't run out (unless you've got some really fast 'pumpers' in your group), but if you wanted to use your own branded balloons you're more than welcome!  You could even brand the base of the equipment to really drill ome your brand image.
What events are Boom 'Balloon' Blasters Hire suitable for?
The highly competitive nature of the Boom 'Balloon' Blasters Hire makes it superb for Team Building events, but it's also the perfect equipment for younger guests who love making things explode!
Fun Days
Birthday Parties
University Events
Promotional Events
Charity Events
Corporate Office Events
School & College Events
Sports Events
Evening Events
Bar Mitzvahs / Bat Mitzvahs
Key Features of the Boom 'Balloon' Blasters Hire:
No power required
Can be used indoor or outdoor
Includes loads of balloons!
Available in 2 designs
So get your balloon onto the valve and start pumping away!  You'll need all your strength and plenty of rhythm to make this one POP!
Equipment included with Boom 'Balloon' Blasters Hire:
2 x Balloon Blasters 
100 x Balloons (additional balloons can be ordered separately)
Equipment Size: 1.5m wide x 1.5m deep x 1.0m high
Operational Area Required: 2.5m wide x 2.5m deep
Power: not required
Staff: adult supervision required (staff hire available)
Number Of Users: 2
Recommended Age/Height of Users: 7 years and over
Access Requirements: please note that a width of 0.82m is required when moving the equipment through doorways and corridors. If you feel that access may be an issue, such as stairways or lift access, uneven surfaces, obstructions or perhaps long distances then please mention this in your enquiry.
Speak to a Fun Expert today to discuss the bespoke upgrade options available from additional equipment, branding, prizes, props and theming. As we own all our own equipment we have the flexibility to adapt equipment to suit your requirements.
2nd time that we have used The Fun Experts to supply Giant Games for our Staff Summer BBQ. Excellent service, good products at reasonable prices.
J Wells
All our colleagues loved the Giant Games, it really made a difference to our BBQ!
Fran Hampton
From the very first phone call I knew I had made the right choice, very professional and most helpful. Thank you so much!
Mel Dreszler
I have had 5 events through The Fun Experts. They all went really well and the staff were very helpful. I would definitely HIGHLY RECOMMEND!.
Sam Spencer
The highest compliment that I can pay to The Fun Experts and their excellent staff is that I have used them for my Fun Day for the past four years!
Barry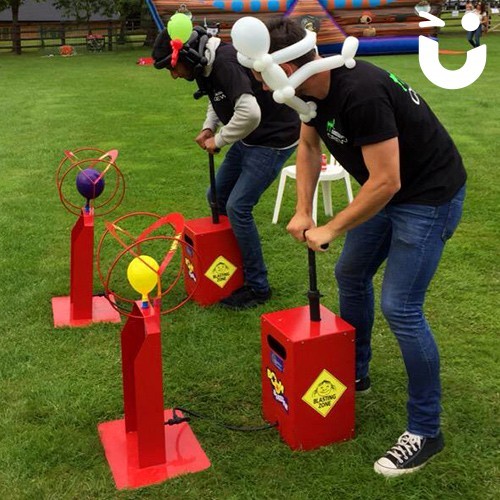 Boom 'Balloon' Blasters Hire has been added to your Event Quote.
Close
Call the Fun Experts to discuss your event: