A Sunny Student Event at the Uni of Birmingham!!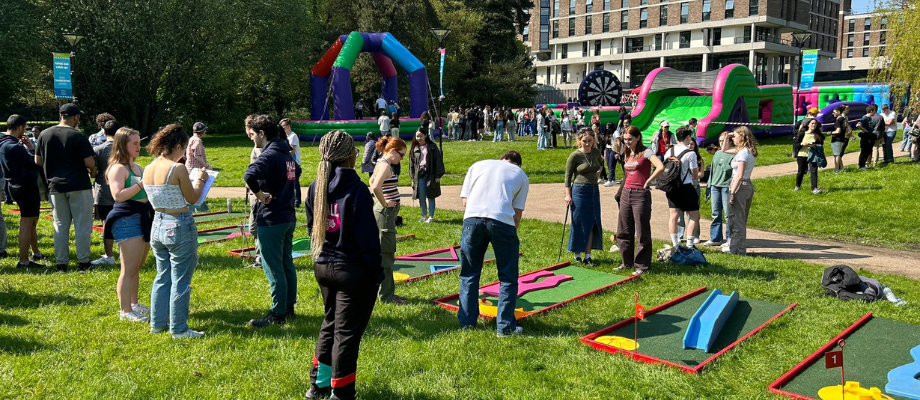 ---
What The Uni of Birmingham wanted...
Over the last five years, The Fun Experts have worked with Coral Brookes from the University of Birmingham on over 12 events from freshers week to open days to student and staff events. With the final semester of this year coming to an end, the University of Birmingham wanted to invite their students to come together and celebrate and what better way than with a range of fun equipment from The Fun Experts...

How The Fun Experts helped...
Working with Coral Brookes since 2018, sales and development manager at The Fun Experts, Camille, was able to put together a package filled with all sorts of entertainment that we know from past experience has kept over 500 students laughing and having fun for the full three hours. Coral sent over her final choice of entertainment that covered Inflatables from Hungry Hippos and the Gladiator Joust to the Surf Simulator, Rodeo Sheep and our Inflatable Assault Course as well as a selection of Side Stalls, Mini Golf, Candyfloss and Popcorn Carts and Deckchairs for students to sit. 

The Final Result
To ensure all of the equipment made it down to Birmingham and was able to be staffed, we enlisted 16 Fun Experts lead by warehouse operations manager Adrian to make the early morning journey down to Birmingham. It ended up being a perfect day for a large outdoor event, with sunshine and lots of smiley faces and all of the students as well all of our Fun Experts had a fantastic time which you can definitely see in these photos! We also have a great event at the University of Birmingham and look forward to working with Coral again soon!

Not to wish the summer away but freshers week will be upon us before you know it and we're already starting to see enquiries and bookings coming in from universities and colleges. If you've been tasked with organising a freshers event, feel free to take a look at our Range of Entertainment and Contact Our Fun Experts who will be more than happy to have a chat about your event put together a quote for you. Hoping to see you in September!