Mini Golf Hire
If you fancy yourself as a bit of a Rory McIlroy or Arnold Palmer, then you might want to hire our Mini Golf course for your next event, though even the greatest golfers might find this activity a bit more taxing than the real thing. Since its inception in the early 20th Century, mobile Mini Golf (or Crazy Golf) has become almost as popular as the parent game and we have our own take on this classic entertainment.
Trimmed in red and covered in a grass-like material, each of the 9 boards features a different golfing obstacle designed to test your putting skills, and more importantly, your patience!  We'll supply you with enough club and golf balls for every hole, so this fantastically addictive game can be played by 9 people at once!  And using the scorecards players will record their strokes at each hole, with the player using the least amount of strokes to be declared the winner!  Or you might just want to play for fun or simply hone your skills for the next time you head to the green.
Every family holiday seems to include a trip to the Mini Golf, as it's such a great game for adults and children to play together.  There's no age limit on this game: if they can hold the club (we have adult and children sized clubs), they can have a go!  And you never know, sometimes blind luck is just as important as skill and accuracy.
What events are the Mini Golf Hire suitable for?
The Mini Golf is a staple at most fun day events we do, but it's becoming more and more popular at weddings and corporate events too!
Fun Days
Promotional Events
Charity Events
Weddings
Team Building
Shopping Centre Promotions
University Events
Sports Events
Key Features of the Mini Golf Hire:
9 boards with every hire, but can be less for smaller areas
Adult and junior clubs included
Enough scorecards for everyone, with each course having a par target
Devilishly tricky obstacles on each hole
So putt-putt your worries behind you and test your nerve on the Mini Golf at your next event and you'll be sure to score a hole-in-one!
Equipment Included with Mini Golf Hire:
9 x Crazy Golf Obstacle Courses
Adult & Junior Golf Clubs
Golf Balls
Numbered Flags
Scorecards
---
Equipment Size: 0.9m wide x 2.4m deep x 0.5m high
Operational Area Required: 11.0m wide x 3.4m deep
Staff: adult supervision required (a fun expert is available)
Number Of Users: 9
Recommended Age/Height of Users: 5 years and over
Access Requirements: please note that a width of 0.82m is required when moving the equipment through doorways and corridors. If you feel that access may be an issue, such as stairways or lift access, uneven surfaces, obstructions or perhaps long distances then please mention this in your enquiry.
Speak to a Fun Expert today to discuss the bespoke upgrade options available from additional equipment, branding, prizes, props and theming. As we own all our own equipment we have the flexibility to adapt equipment to suit your requirements.
The highest compliment that I can pay to The Fun Experts and their excellent staff is that I have used them for my Fun Day for the past four years!
Barry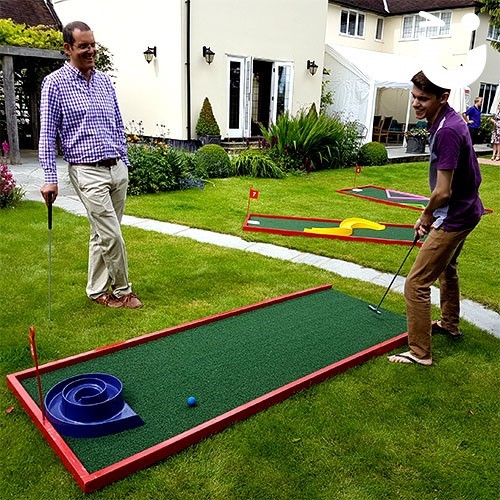 Mini Golf Hire has been added to your Event Quote.
Close
Call the Fun Experts to discuss your event: