Team Building It's a Knockout
Team Building It's a Knockout
If you're looking to inspire, motivate and energise your work colleagues with a day of teamwork, competition and fun then let The Fun Experts bring you the expert knowledge in Team Building events.  Using a mix of inflatables and sporty challenges, we've created a series of challenges to get your team racing their way to a more productive future!
The It's A Knockout experience is a brilliant way to get your team's hearts racing, promoting physical fitness as well as camaraderie!
Once the warm-ups have everyone thoroughly prepared, the event begins with the teams racing through the events to score points.  Then it's off to the Grand Final for the top two teams in the Tug of War!
The challenges include:
Multiples Inflatable Assault Course challenges and relays
Traditional Sports Day Races
A choice of Semi-Final challenge - Wipeout OR Hungry Hippos
Tug of War Final
You can be sure that everyone involved will have an unforgettable experience with Team Building It's A Knockout; one that they're sure to be talking about when they return to the office. But having spent some 'relaxing' time together away from the office, you will find that your team have come away more motivated and more driven and ready to jump straight back into the hard work with raised spirits.
What events are the Team Building It's A Knockout Hire suitable for?
As well as being used for Corporate Team Building events, the It's A Knockout Hire can be used for all sorts of exciting opportunities:
Employee Engagment
Wellbeing Days
Team Building
Fun Days
Promotional Events
Charity Events
University Events
Sports Events 
Key Features of the Team Building It's A Knockout Hire:
Suitable for a variety of sizes groups from 10 to 300
A mix of large inflatables and sporty activities
Complemented by an event host Extra bonus rounds, time permitting
Get your pulse racing on the Team Building It's A Knockout Hire and bring your team together in the best way possible! 
All packages include:
Host / Compere
PA System
Multiple Inflatable Assault Course obstacles
Sports Day Races (including Sack Race, Egg & Spoon, Ski Slalom, Walk The Plank)
Semi Final Fun - either the Wipeout OR Hungry Hippos
Tug of War
Team of Fun Experts
Operational Area Required: flexible and we have indoor and outdoor options available
Power: standard socket required (generator hire available)
Staff: compere and staff included
Recommended Age/Height of Users: from 10 upwards
Access Requirements: access would need to be discussed with the Fun Experts when enquiring.
Speak to a Fun Expert today to discuss the bespoke upgrade options available from additional equipment, branding, prizes, props and theming. As we own all our own equipment we have the flexibility to adapt equipment to suit your requirements.
From start to finish the The Fun Experts were great! Everyone loved the knockout challenge, It was fantastic! Massive thanks!
Pat Munro (Alness) Ltd
The Fun Experts organised our company Team Building event. I will definitely be recommending them to other projects in our company.
Victoria Callow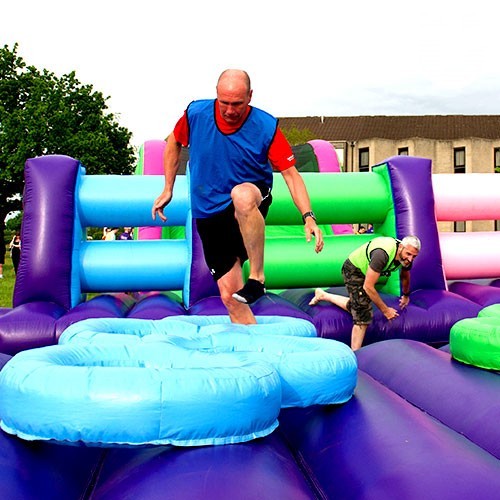 Team Building It's a Knockout has been added to your Event Quote.
Close
Call the Fun Experts to discuss your event: