Team Building for Outdoors
Team Building for Outdoors
Your task seems impossible: you want to re-energise and motivate your staff… but where do you begin?  Luckily, we've made it super simple for you!  Getting out onto the playing the field is the first thing you need to do, as a change of scenery works wonders for those weary workers.  Then it's time to get active!
On the day, our fun experts will start with warm-ups to get everyone thoroughly prepared and then the event begins with the teams manning a station to gain points. Teams then rotate around the stations ensuring everyone gets involved.  The four highest scoring teams then enter the Semi-Final, with the top two teams going head to head in the Tug of War Final to determine the overall winner.  Here's a list of the stations you can choose from!
Team Building Stations
| | |
| --- | --- |
| Stations | Description |
| Tie The Knot | Ever join the Scouts? Let's see how many complicated knots you can make! |
| Puzzle Cube | Two team members are blindfolded and guided by other team members to try and build the Cube. |
| Build A Tower | How high can you go? Will your tall tower stand the test of time and the foot stomp come the end of the ten minutes? |
| The Plank Cross | Using the Walk the Plank challenge, teams must solve the puzzle to get a wolf, a chicken and a seed bag across the river. |
| Human Buzz Wire | You must work together as a team as one volunteer becomes the wand in this challenge. Can you make it from one end to the other? |
| Giant Kerplunk | Remove certain number of poles without letting too many balls drop. |
| Boom Balloon Blasters | Inflate and burst as many balloons as you can.  Time to get pumping! |
| Inflatable Basketball | How many balls can your team sink in the hoops over ten minutes! |
| Inflatable Shoot-Out | Use your fancy footwork to score as many points as you can. |
| Archery | Your nominated team members receive 3 arrows! Go for gold and prove you're better than Robin Hood! |
| Test Of Strength | Everyone gets a go to hit the bell! |
| Rodeo Bull | Each team member must face the challenge of Maurice the Bull. All the times are taken to find your team average. |
| Surf Simulator | Similar to the Rodeo Bull, you'll need all your balance skills to keep yourself on the board. |
| Traditional Side Stalls | We have a wide range of side stalls that can be used to gain points - choose from Hook-A-Duck, Ball In A Bucket, Hoopla, Tin Can Alley, Cork Shoot, Cactus Toss or Coconut Shy. |
In the Team Building for Outdoors we can use the amazing Wipeout Challenge or the manic Hungry Hippos Inflatable to determine the top two teams and then it's a round of the Tug of War for the overall champions to be revealed!
What events is the Team Building for Outdoors Hire suitable for?
By choosing from the activities shown above we can cater for anything up to 100 participants, so it's suitable for companies of all sizes! Plus it's such a great package that people use it  for all kinds of events, here's a few:
Team Building Events
Fun Days
Promotional Events
Charity Events
University Events
Sports Events
Birthday Parties
Key Features of the Team Building for Outdoors Hire:
Bronze, Silver and Gold packages available for anything up 100 participants
A mix of physically and mentally challenging activities
Includes Winners Podium, Winners Trophy, Team Bibs, Captain's Hats and a Bottle of Bubbly
So get out of the office and into the Sunshine with the Team Building for Outdoors Hire and you'll find you and your team are filled with energy for the rest of the year!
Equipment Included with Outdoor Team Building Hire:
Host/Compere
Winner's Trophy
Winner's Podium
Team Bibs & Captain Hats
Bottle of Bubbly
PA System
Operational Area Required: flexible and we have indoor and outdoor options available
Power: standard socket required (generator hire available)
Staff: compere and staff included
Recommended Age/Height of Users: from 10 upwards
Access Requirements: access would need to be discussed with the Fun Experts when enquiring.
Speak to a Fun Expert today to discuss the bespoke upgrade options available from additional equipment, branding, prizes, props and theming. As we own all our own equipment we have the flexibility to adapt equipment to suit your requirements.
The Fun Experts organised our company Team Building event. I will definitely be recommending them to other projects in our company.
Victoria Callow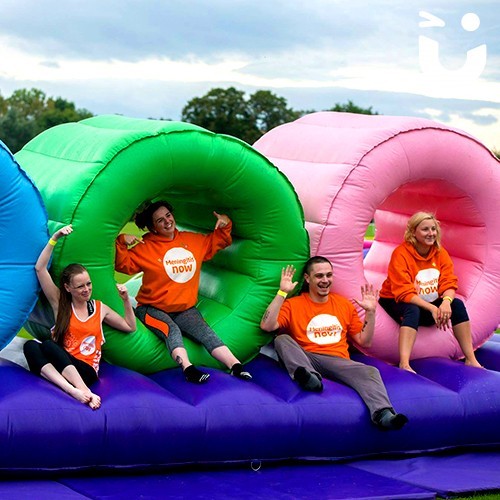 Team Building for Outdoors has been added to your Event Quote.
Close
Call the Fun Experts to discuss your event: