Candy Floss and Popcorn on the same Traditional Cart Hire
Candy Floss and Popcorn on the same Traditional Cart Hire
Make your event snap, crackle and pop by hiring our super popular combined Candy Floss and Popcorn traditional cart- a winning piece of entertainment for corporate events. 
As a leading corporate event management company, The Fun Experts can help give you the 'wow' factor by offering your guests something delicious to eat in a professional but fun way. 
Get the best of both worlds for all types of fun corporate events and hire our sugar and candy-coated Candy Floss and Popcorn on the same cart; we guarantee that nothing has ever tasted as sweet!
The red and white striped fabric surrounding are a real eye catcher, making them perfect for family fun days, award functions, weddings and more.
For all your event planning, look no further than the Fun Experts! 
Equipment included with Candy Floss and Popcorn on a Traditional Cart Hire:
Traditional wooden cart with red and white striped canopy
Candy Floss Machine
Metal Drum
Popcorn Machine
Ingredients and Consumables
Sticks or Bags
Popcorn Cones
Complete, easy to follow instructions
Power Leads
Equipment Size: 1.3m wide x 1.0m deep x 2.2m high
Operational Area Required: 2.3m wide x 2.0m deep x 2.2m high
Power: standard socket required (generator hire available 6.5kva)
Staff: Adult supervision required ( a fun expert is available)
Access Requirements: please note that a width of 0.82m is required when moving the equipment through doorways and corridors. If you feel that access may be an issue, such as stairways or lift access, uneven surfaces, obstructions or perhaps long distances then please mention this in your enquiry.
You're sure to taste the sweet success of your event when hiring this crowd pleaser. But here you can upgrade your Candy Floss and Popcorn hire with the following:
Usherette Trays - as the sweet taste of Popcorn and Candy Floss is whipped up, volunteers can take the food to the guests in these brilliant cinema style Usherette Trays.
Additional Fun Foods - don't forget about Ice Cream and Pick n Mix, we have a selection of Fun Foods that will add even more sweetness to your event.
When you're speaking to the Fun Experts today, ask how we can upgrade your package to include even more crowd pleasing options to your event.
The staff were extremely friendly and more importantly: very fun!! Thank you... you guys made our event!
Olivia Hall
I have had 5 events through The Fun Experts. They all went really well and the staff were very helpful. I would definitely HIGHLY RECOMMEND!.
Sam Spencer
The Popcorn and Candy Floss cart went down a treat. Very professional service. I would definitely recommend The Fun Experts to friends and colleagues.
Shola
The highest compliment that I can pay to The Fun Experts and their excellent staff is that I have used them for my Fun Day for the past four years!
Barry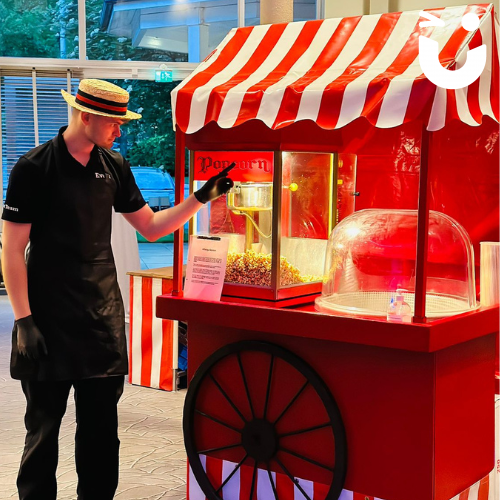 Candy Floss and Popcorn on the same Traditional Cart Hire has been added to your Event Quote.
Close
Call the Fun Experts to discuss your event: