Deckchair Hire
After a long day of traipsing around the beach or funfair, you'll need somewhere to rest your weary feet, so you'll need to hire the Deckchairs and sit back and relax whilst the sun is shining and the birds are singing.  Or perhaps you'd like to brighten up a chilly winter event with a beach theme - you'll be surprised how adding a little bit of summer to an event can brighten everyone's spirits!
Available in red and white stripes or blue and white stripes, we have literally hundreds of deckchairs available to hire so if you're planning a large outdoor event, such as an open-air cinema, then you're going to need to find somewhere for everyone to sit and the brightly coloured deckchairs may be the answer you're looking for!  Plus they look amazing when all set up together!
The deckchairs we hire are traditional style deckchairs, made to a much higher standard that the one's you might buy in the shops - these are the real thing!  With summer always on the horizon, it's not too late to make your enquiry about these unique seating options for your event!
What events is the Deckchair Hire suitable for?
The traditional look of the deckchairs is swiftly making them a popular item for weddings - lots of tired feet after a long day of ceremonies and mingling.  But there's lots of other events these deckchairs can be used for - the only limit is your imagination!
Family Fun Days
Corporate Events
Promotional Events
Charity Events
Weddings
Shopping Centre Promotions
Themed Events
Outdoor Cinema Events
Key Features of the Deckchair Hire:
Over 400 chairs available to hire
Two colours to choose from: red and white or blue and white
Strong and sturdy!
Brighten up your next event with the deckchairs, for either summer or winter events! Take a look at gallery images to see how amazing they really are!
Equipment included:
Authentic Folding Deckchairs (over 400 available)
Choice of colours (red & white or blue & white)
---
Equipment Size: 0.58m wide x 1.31m deep x 0.15m high (folded)
Operational Area Required: 0.58m wide x 1.31m deep x 1.05m high (unfolded)
Speak to a Fun Expert today to discuss the bespoke upgrade options available from additional equipment, branding, prizes, props and theming. As we own all our own equipment we have the flexibility to adapt equipment to suit your requirements.
Amazing deck chairs they looks fab at our wedding
Becca Podmore
We hired the deckchair seating for our staff BBQ with the Giant Deckchair for photos! They looked outstanding!
John Scott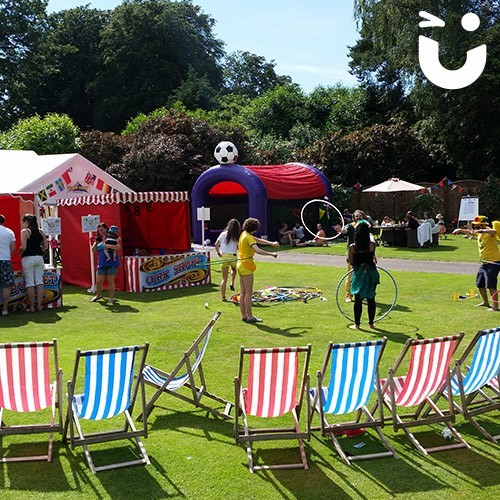 Deckchair Hire has been added to your Event Quote.
Close
Call the Fun Experts to discuss your event: