Crazy Mirrors Hire
Remember all those weird and wonderful mirrors from the Funhouse at the fair?  You'd step into the Hall of Mirrors and find your reflection distorted into a myriad of weird and wonderful shapes by the wibbly wobbly mirrors, inciting giggles, chuckles and guffaws from everyone who laid eyes on them.
Comprising of a set of 3 different convex and concave mirrors, the Crazy Mirrors will stretch and squash your reflection into all sorts of bizarre shapes giving you and your guests hours of fun as they strike a few poses.  The whole set of mirrors will make you long, thin, big, fat and short, but most importantly - they will make you laugh.
The great thing about the mirrors is that they can be set up and then left, for people to come and enjoy them at their leisure - no need for staffing!
What events are the Crazy Mirrors Hire suitable for?
These huge mirrors are great for all kinds of fun events and are very popular as part of the Funfair theme.  We can even split up the set and just bring a few mirrors, just to add a little bit of fun to your existing Funfair package - the possibilities are endless.
Funfair Events
Corporate Events
Weddings
Birthday Parties
Bar Mitzvahs / Bat Mitzvahs
Charity Events
Shopping Centre Promotions
University / School Events
Key Features of the Crazy Mirrors Hire:
Huge mirrors with all different types of distortions
A total of 3 available
Can be hired individually or as a full set
No staffing required - once set, they're there to enjoy
Bring a bit of fun to your event with these Crazy Mirrors and you won't need to reflect on your decision for long - you'll see instantly what a fantastic attraction they are!
Equipment included with Crazy Mirrors:
Equipment Size: 0.9m wide x 1.2m deep x 2.1m high (each mirror)
Operational Area Required: 6.0m wide x 2.0m deep x 2.2m high (set of 5 mirrors)
Speak to a Fun Expert today to discuss the bespoke upgrade options available from additional equipment, branding, prizes, props and theming. As we own all our own equipment we have the flexibility to adapt equipment to suit your requirements.
The staff were extremely friendly and more importantly: very fun!! Thank you... you guys made our event!
Olivia Hall
From the very first phone call I knew I had made the right choice, very professional and most helpful. Thank you so much!
Mel Dreszler
Absolutely brilliant as always and we will continue to work in partnership with The Fun Experts.
James Hale
I have had 5 events through The Fun Experts. They all went really well and the staff were very helpful. I would definitely HIGHLY RECOMMEND!.
Sam Spencer
The highest compliment that I can pay to The Fun Experts and their excellent staff is that I have used them for my Fun Day for the past four years!
Barry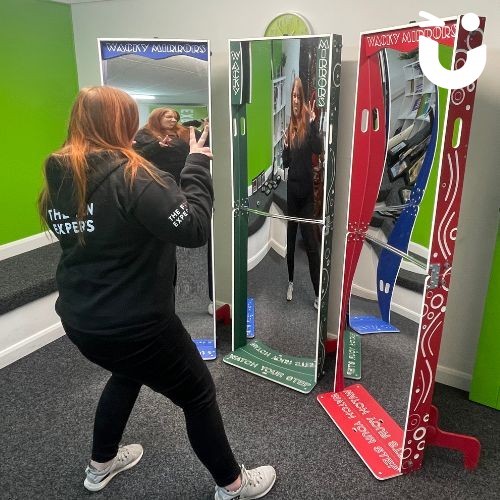 Crazy Mirrors Hire has been added to your Event Quote.
Close
Call the Fun Experts to discuss your event: