Summer Social for Jaga UK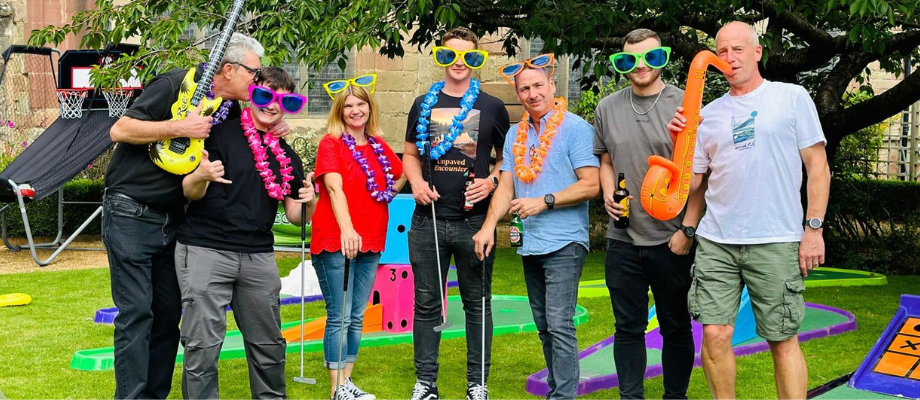 ---
What Jaga UK wanted...
We're sad to say that summer will soon be coming to a close but just because summer holidays are for students, who says that us big kids can't have some fun of our own? Not us! Heating and ventilation company, Jaga UK, took matters into their own hands this August and held a staff social for their employees, which involved a lovely lunch in the garden followed by a variety of Team Activities, which is where The Fun Experts came in...

How The Fun Experts helped...
Jaga UK were looking for a range of fun competitive games that their staff, who would be placed into five teams named after their core values, could go head to head and play against in each other, in order to be crowned the winning team. Fun Expert Kirsty put together a package for Jaga, which included our Crazy Golf, Basketball Challenge, Snake Pit, Maze Runner, Table Football and Mega Buzz Wire and Managing Director, Phil, was more than happy with. With everything booked in, his final request was for the Fun Expertteam to join staff at Jaga UK for lunch and that we bring the sunshine with us...

The Final Result
Five of our Fun Experts arrived at our unit nice and early on the day of the event, ready for a 5am journey to The Abbey Hotel in Great Malvern. The team arrived and had all of the fun set up and ready in time for lunch, everyone sat down at 12:30pm to enjoy a delicious spread ready to let the games begin! Everyone was eager to get stuck into the activities, dressing up in funky props including giant sunglasses and leis and had a fab afternoon of fun trying out different games and competing to be the most cohesive team.

Fancy ending your summer with a bang? Why not throw a staff social of your own? Our range of Interactive Games can be put together for an afternoon of competitive fun or placed in the office to be enjoyed on your lunch breaks. Contact The Fun Experts to explore your possibilities and put together a summer event to remember...