Soft Target Archery
Princess Merida and Legolas have made Archery a popular activity for children as they try to emulate the expert archers they see on TV and film.  And now, there's a safe Archery option that's suitable for even the youngest of your guests!
Just like the standard Archery Hire, the Children's Archery Hire is staffed by a full trained Fun Expert who will show the children how to use the bows safely before giving them the chance to pull back the bow and let that arrow fly.  But never fear, these aren't standard arrows - these are safety arrows, with sucker cups attached to the end. With 3 targets and plenty of bows and arrows included, up to 6 children can play at once.
The target feature the standard target pattern as well as a unique jigsaw style target that gives players who are still struggling with their targeting skills to achieve a respectable score. You'll find that children not only learn a new skill, but a little bit of quick maths as they tot up their own scores.
What events are the Children's Archery Hire suitable for?
With Archery being acknowledged more and more as a fun activity as well as a sport, this great game is being used at all kinds of event:
Fun Days
Promotional Events
Charity Events
Weddings
School Events
Sports Events
Bar and Bat Mitzvahs
Key Features of the Children's Archery Hire:
A fully trained Fun Expert
3 targets to fire at!
A variety of games to play
Safe, sucker arrows included
You'll be right on target with this great addition to your event - once you see the joy on the faces of your younger guests, you'll be wondering when you can hire the Children's Archery again!
Equipment Included with Children's Archery Hire:
3 x Archery Targets
Bows
Arrows
Bunting
Trained Fun Expert
---
Equipment Size: 3.0m wide x 4m deep
Operational Area Required: 4.0m wide x 5.0m deep
Staff: trained Fun Expert provided
Number Of Users: 3
Recommended Age/Height of Users: recommended 4 years and over
Access Requirements: Please note that a width of approximately 0.7m is required when moving the equipment through doorways and corridors. If you feel that access may be an issue, such as stairways or lift access, uneven surfaces, obstructions or perhaps long distances then please mention this in your enquiry. Please note that in the set up of Archery, the equipment needs to be set up in an area where the public is unable to walk behind the equipment. Available to hire for Indoor or Outdoor use.
Speak to a Fun Expert today to discuss the bespoke upgrade options available from additional equipment, branding, prizes, props and theming. As we own all our own equipment we have the flexibility to adapt equipment to suit your requirements.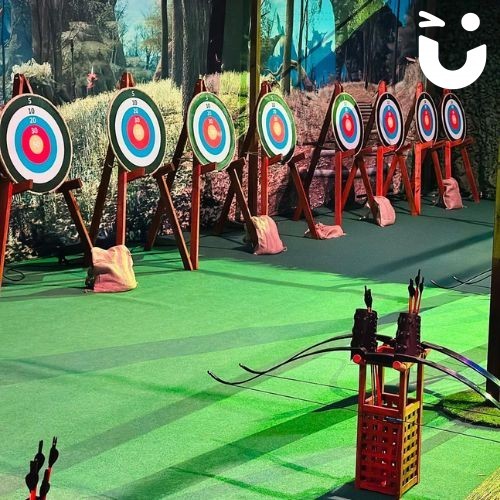 Soft Target Archery has been added to your Event Quote.
Close