Ferris Wheel Hoopla Stall
Ferris Wheel Hoopla Stall
Allow us to introduce you to our very own Ferris Wheel Hoopla Stall - unique to The Fun Experts collection of fantastic Funfair themed carnival stalls. 
Like all of the funfair Side Stalls, the Ferris Wheell Hoopla Stall is housed in the bright red enclosure with an eye-catching red and white striped roof.  The frontage to each stall is interchangeable, either decorated in the classic funfair style inviting players to 'Try Your Luck' or you can have your own vinyl banners created to brand up the stalls at your promotional event.
What events are the Ferris Wheel Hoopla Stall Hire suitable for?
Draw a crowd at your event with the  Ferris Wheel Hoopla Stall Hire, it's perfect for a variety of events that include:
Fun Days
Promotional Events
Charity Events
Weddings
Shopping Centre Promotions
University Events
Sports Events
Birthday Parties
Children's Parties
Team Building
Key Features of the Ferris Wheel Hoopla Stall Hire:
No skill involved - the game is based on pure luck!
50 novelty prizes included
Can be staffed by a Fun Expert or you can run this game yourself
Equipment Included with Ferris Wheel Hoopla Stalll Hire:
Red & White Funfair stall
1 x Ferris Wheel Hoopla Game
50 x Novelty Prizes
Equipment Size: 2.14m wide x 2.14m deep x 2.14m high
Operational Area Required: 2.14m wide x 2.14m deep x 2.14m high
Speak to a Fun Expert today to discuss the bespoke upgrade options available from additional equipment, branding, prizes, props and theming. As we own all our own equipment we have the flexibility to adapt equipment to suit your requirements.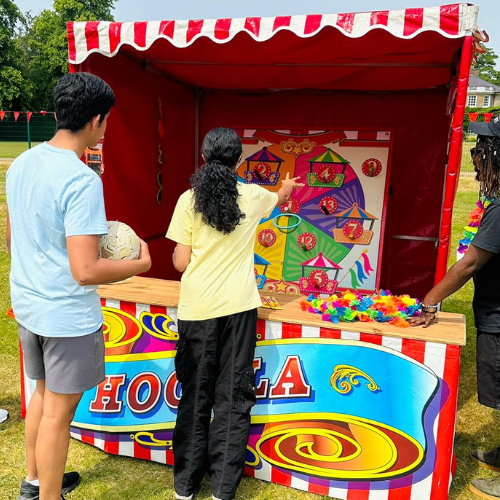 Ferris Wheel Hoopla Stall has been added to your Event Quote.
Close