Cactus Ring Toss Stall Hire
Cactus Ring Toss Stall Hire
Prove that you're the finest lasso swinging cowboy in the West with our amazing Cactus Ring Toss Game, a fun and unique Side Stall attraction that's perfect for all kind of event with a Western twist. Kids can challenge their parents to a quick game as they try and throw the rope quoits over the waiting arms of the attractive wooden cacti.Just like the classic Hoopla game, you'll need the right flick of the wrist to get your hoop over the cactus arm, but don't overdo it: you don't want your rope quoit to miss it's target and land limply behind your intended target.  Not to worry though, we'll give you three chances to land the hoop safely over the cactus arm.
Should you succeed in your task, you'll find yourself walking away with one of the amazing novelty prizes that are included with every one of our Side Stalls and if not, don't worry, there's always time for another go; the brightly coloured red and white Side Stall enclosure will tempt you back time and again until you claim your prize!
What events are the Cactus Toss Stall Hire suitable for?
The Cactus Toss Stall works best at Western Themed events as it helps to keep the theme consistent throughout your event but it's possible to theme any event to look like the Wild West!
Fun Days
Corporate Events
Promotional Events
University Events
Children's Parties
Team Building
Charity Events
Weddings
Evening Functions
Shopping Centre Promotions
Key Features of the Cactus Toss Stall Hire:
Brightly coloured cactus target boards
50 novelty prizes included with every Side Stall
Can be run by a fun expert or you can do it yourself
Branding options available
So head out to Death Valley and bring a little bit of fun to the Wild West with the amazing Cactus Toss Stall. 
 Equipment included with Cactus Toss Stall Hire:
1 x Red & White Striped Stall
2 x 6ft Cactus Boards
6 x Rope Loops
2 x Additional Theming Props
50 x Novelty Prizes
Equipment Size: 2.14m wide x 2.14m deep x 2.14m high
Operational Area Required: 3.14m wide x 3.14m deep x 2.14m high
Power: standard socket (if lighting is required) (generator hire available)
Staff: adult supervision required (staff hire available)
Number Of Users: 2
Recommended Age/Height of Users: 5 years and over
Access Requirements: please note that a width of 0.82m is required when moving the equipment through doorways and corridors. If you feel that access may be an issue, such as stairways or lift access, uneven surfaces, obstructions or perhaps long distances then please mention this in your enquiry.
Not only are there some fantastic ways to upgrade you package with additional products as seen in 'You May Also Like' below, you can upgrade the hire of your stall with the following:
Bespoke Branding - the stalls are open to some fantastic branding options with front banner creating the perfect canvas. If you're wanting to promote your company brand or simply add something special to your hire, the branding of the front stall banner is the perfect option.
Additional Prizes - every stall comes with a complimentary 50 novelty prizes. Do you know the footfall for your event; have you got an extended guest list? Make sure your guests walk away with a prize and enquire about our additional Prize Packages.
When speaking to the Fun Experts today, don't shy away from asking how you can upgrade your package.
Our guests thoroughly enjoyed the Funfair Stalls and have commented on how it gave the party a really fun feel. Thanks so much for adding the FUN to our event!
Jason Wouhra
The stalls were great quality and fun!! The guys were friendly and helpful! Would use again and recommend.
Emma Robinson
The fun fair stalls are very addictive and a great laugh. I would definitely use The Fun Experts in the future and would recommend to all.
Chris King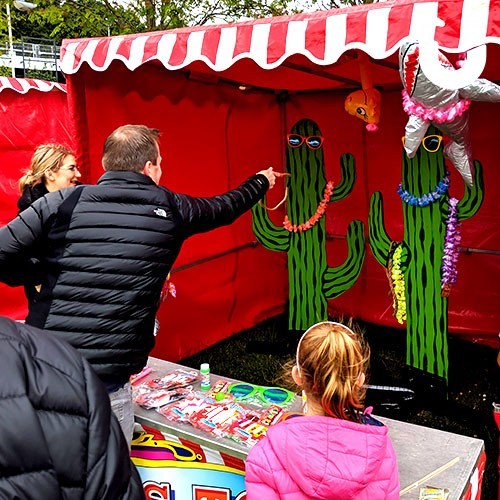 Cactus Ring Toss Stall Hire has been added to your Event Quote.
Close
Call the Fun Experts to discuss your event: