Funfair Target Stall Hire
Funfair Target Stall Hire
The target based Side Stall has been a popular sight at funfairs since they began.  In the early funfairs, the games would be rigged with misaligned sights or under-powered projectiles that wouldn't reach their target.  Not with the Funfair Target Stall though - it's all based on your aim alone!  Will you be able to master the crossbow and get that sucker dart to land on the targets? 
The skill involved makes this game a tricky one for children and adults alike, as they line up their crossbow at the brightly coloured targets, designed to match the traditional side stalls of vintage years.  Whether you aim for the Teddy Bear, the Plates or the Rubber Ducks, you'll find it's much harder than it looks... unless you're a crack shot, of course!
Matching the other Side Stalls in our great range of games, the Funfair Target Stall is a sight to behold in red and white, with the invitation to 'Try Your Luck' emblazoned on the brightly coloured front panel.  We can also produce branded options for the frontages based on your supplied artwork.  All that remains is to get the prizes - there's 50 included in every hire, but we can always supply more!
What events are the Funfair Target Stall Hire suitable for?
The funfair theme is becoming more and more popular at all kinds of events; not just the classic Fun Day, but any events that need an extra dose of fun injecting into them!
Fun Days
Promotional Events
University Events
Sports Events
Weddings
Birthday Parties
Children's Parties
Team Building
Charity Events
Shopping Centre Promotions
Key Features of the Funfair Target Stall Hire:
Bespoke designed funfair backboard featuring a range of fun targets to shoot at
50 novelty prizes included
Manned by a trained Fun Expert
Branding options available
The Side Stalls are a real eye-catcher, so make sure you're bang on target with this great addition to your event.  Just make sure you have a plenty of prizes to give out!
Equipment included with Funfair Target Stall Hire:
1 x Red and White Striped Stall
Target Board
3 x Crossbows
Sucker arrows
50 x Novelty Prizes
Equipment Size: 2.14m wide x 2.14m deep x 2.14m high
Operational Area Required: 3.14m wide x 3.14m deep x 2.14m high
Power: standard socket if lighting required (generator hire available)
Staff: trained operator provided
Number Of Users: 1
Recommended Age/Height of Users: 5 years and over
Access Requirements: please note that a width of 0.82m is required when moving the equipment through doorways and corridors. If you feel that access may be an issue, such as stairways or lift access, uneven surfaces, obstructions or perhaps long distances then please mention this in your enquiry.
Not only are there some fantastic ways to upgrade you package with additional products as seen in 'You May Also Like' below, you can upgrade the hire of your stall with the following:
Bespoke Branding - the stalls are open to some fantastic branding options with front banner creating the perfect canvas. If you're wanting to promote your company brand or simply add something special to your hire, the branding of the front stall banner is the perfect option.
Additional Prizes - every stall comes with a complimentary 50 novelty prizes. Do you know the footfall for your event; have you got an extended guest list? Make sure your guests walk away with a prize and enquire about our additional Prize Packages.
When speaking to the Fun Experts today, don't shy away from asking how you can upgrade your package.
The fun fair stalls are very addictive and a great laugh. I would definitely use The Fun Experts in the future and would recommend to all.
Chris King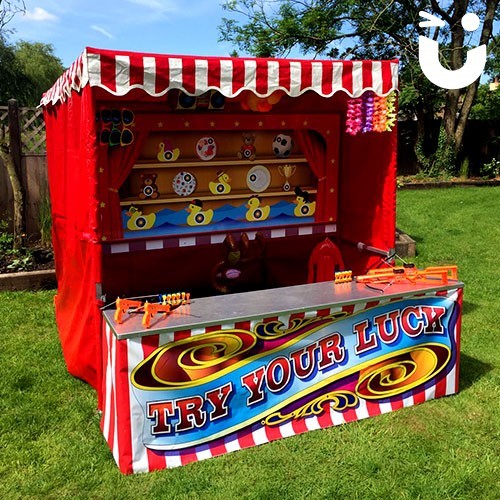 Funfair Target Stall Hire has been added to your Event Quote.
Close
Call the Fun Experts to discuss your event: