Hoopla Stall Hire
The travelling fair has been a fixture in modern culture since its popularity in the late 19th Century, featuring all kinds of attractions from ringside shows and burlesques to mechanical rides and side stalls.  One of the most common stall seen at these fairs is, of course, the Hoopla Stall.
In the olden days, stallholders would trick the customers by showing them that the rings would easily fit over a wooden block, whilst handing them a slightly smaller ring - no such trickery here though - the difficulty comes the players skills at tossing that eponymous hoop!  Don't let anyone distract you as you take your throw!
The aim of the game is simple as you are handed some plastic rings which you need to try and throw over the neck of one of the many bottles on target.  You'll need to judge this perfectly in order for the hoop to drop perfectly over the neck of a bottle.  Different sizes and shapes of bottles allow for you to go from the easy to the more difficult, depending on how well your aim is.  Should you be victorious in your task, there's a novelty prize waiting for you - 50 are included with every Side Stall hire! 
What events are the Hoopla Stall Hire suitable for?
The simplicity of the Hoopla Stall is what makes it a popular attraction at funfair events - often clients use this theme for all kinds of occasions - birthdays, weddings, school parties!
Fun Days
Promotional Events
Sports Events
Birthday Parties
Children's Parties
Charity Events
School Events
Weddings
Shopping Centre Promotions
University Events
Team Building
Key Features of the Hoopla Stall Hire:
Housed in a beautiful red and white stall
50 novelty prizes included with every Side Stall hire
Can be staffed by a Fun Expert or you can run this game yourself
The Side Stall games are amongst some of our most popular hire, so make sure you get your sorted now!  Give the Fun Experts a call and we'll make sure there's no hoopla around your Hoopla!
Equipment included with Hoopla Stall Hire:
1 x Red and White Striped Stall
Skittle Targets
5 x Hoops
50 x Novelty Prizes
---
Equipment Size: 2.14m wide x 2.14m deep x 2.14m high
Operational Area Required: 3.14m wide x 3.14m deep x 2.14m high
Power: standard socket if lighting required (if lighting is required)
Staff: adult supervision required (fun expert available)
Number Of Users: 1
Recommended Age/Height of Users: 5 years and over
Access Requirements: please note that a width of 0.82m is required when moving the equipment through doorways and corridors. If you feel that access may be an issue, such as stairways or lift access, uneven surfaces, obstructions or perhaps long distances then please mention this in your enquiry.
Not only are there some fantastic ways to upgrade you package with additional products as seen in 'You May Also Like' below, you can upgrade the hire of your stall with the following:
Additional Prizes - every stall comes with a complimentary 50 novelty prizes. Do you know the footfall for your event; have you got an extended guest list? Make sure your guests walk away with a prize and enquire about our additional Prize Packages.
 
Bespoke Branding - the stalls are open to some fantastic branding options with front banner creating the perfect canvas. If you're wanting to promote your company brand or simply add something special to your hire, the branding of the front stall banner is the perfect option.
When speaking to the Fun Experts today, don't shy away from asking how you can upgrade your package.
Our guests thoroughly enjoyed the Funfair Stalls and have commented on how it gave the party a really fun feel. Thanks so much for adding the FUN to our event!
Jason Wouhra
The stalls were great quality and fun!! The guys were friendly and helpful! Would use again and recommend.
Emma Robinson
The fun fair stalls are very addictive and a great laugh. I would definitely use The Fun Experts in the future and would recommend to all.
Chris King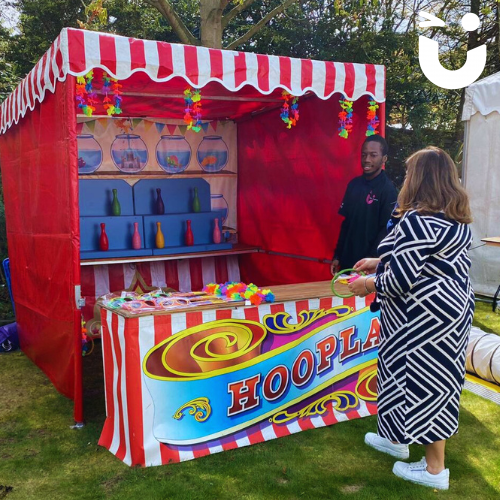 Hoopla Stall Hire has been added to your Event Quote.
Close
Call the Fun Experts to discuss your event: