Ball In a Bucket Stall Hire
Ball In a Bucket Stall Hire
We've all been to the funfair or carnival and, of the many Side Stalls they have lined up, the one that seems to be the easiest to master is the Ball In A Bucket Game Stall. It looks simple: throw the ball and make it stay in the bucket to win a prize. But it's not as easy as it looks - no matter how you throw the ball it always seems to bounce back out!
There must be a knack to it, you tell yourself. Once you throw the ball in the right way and hit the bucket at just the right angle, then it will surely stay in! Try and try as you might you can't seem to make the ball stay in the bucket - until suddenly one lucky throw just manages to get into the bucket at exactly the right angles and it doesn't bounce back as far as previous throws. Hurrah! You win the prize! So you have another go, to show off your new found skill. And then it keeps bouncing out again. Dagnabit!
Matching our range of amazing Side Stalls, the Ball In A Bucket Stall is enclosed beneath the white and red striped canopy in the bright red stall and the words Ball In A Bucket are emblazoned on the eye-catching frontage. We also include 50 novelty prizes in every Side Stall hire so there's always some fun to win!
What events are the Ball In A Bucket Stall Hire suitable for?
The Ball In A Bucket Stall Hire is a great carnival game that is deceptively tricky, so it's a good game to have it you have lots of people at your event, with less prizes to go round… but of course, you could always get more prizes!
Fun Days
Promotional Events
Charity Events
Weddings
Shopping Centre Promotions
University Events
Sports Events
Birthday Parties
Children's Parties
Team Building
Key Features of the Ball In A Bucket Stall Hire:
Easy game to explain, difficult to master!
50 novelty prizes included
Can be staffed by a Fun Expert or you can run this game yourself
All our Side Stalls are decorated in the same way, so they look fantastic as a group, so make sure you include the Ball In A Bucket Stall Hire in your selection!
Equipment Included with Ball In A Bucket Stall Hire:
1 x Red and White Striped Stall
6 x Target Buckets
5 x Throwing Balls
50 x Novelty Prizes
Equipment Size: 2.14m wide x 2.14m deep x 2.14m high
Operational Area Required: 3.14m wide x 3.14m deep x 2.14m high
Power: standard socket (if lighting is required) (generator hire available)
Staff: adult supervision required (staff hire available)
Number Of Users: 1
Recommended Age/Height of Users: 5 years and over
Access Requirements: please note that a width of 0.82m is required when moving the equipment through doorways and corridors. If you feel that access may be an issue, such as stairways or lift access, uneven surfaces, obstructions or perhaps long distances then please mention this in your enquiry.
Not only are there some fantastic ways to upgrade you package with additional products as seen in 'You May Also Like' below, you can upgrade the hire of your stall with the following:
Bespoke Branding - the stalls are open to some fantastic branding options with front banner creating the perfect canvas. If you're wanting to promote your company brand or simply add something special to your hire, the branding of the front stall banner is the perfect option.
Additional Prizes - every stall comes with a complimentary 50 novelty prizes. Do you know the footfall for your event; have you got an extended guest list? Make sure your guests walk away with a prize and enquire about our additional Prize Packages.
When speaking to the Fun Experts today, don't shy away from asking how you can upgrade your package.
Our guests thoroughly enjoyed the Funfair Stalls and have commented on how it gave the party a really fun feel. Thanks so much for adding the FUN to our event!
Jason Wouhra
The stalls were great quality and fun!! The guys were friendly and helpful! Would use again and recommend.
Emma Robinson
The fun fair stalls are very addictive and a great laugh. I would definitely use The Fun Experts in the future and would recommend to all.
Chris King
The highest compliment that I can pay to The Fun Experts and their excellent staff is that I have used them for my Fun Day for the past four years!
Barry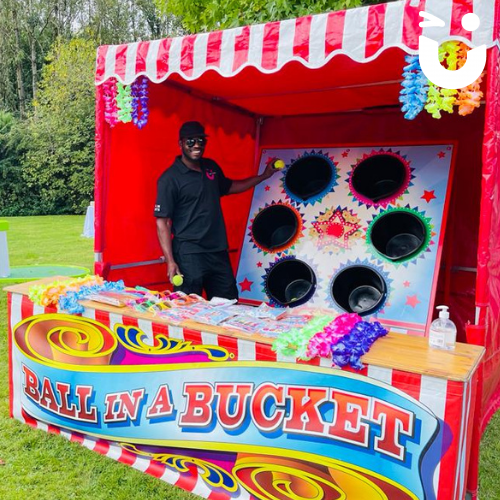 Ball In a Bucket Stall Hire has been added to your Event Quote.
Close
Call the Fun Experts to discuss your event: