Play Your Cards Right Stall Hire
Play Your Cards Right Stall Hire
At The Fun Experts, we're always on the look-out for new and exciting Side Stall games to add to our already huge range. So using our thinking caps, we scoured the world of TV for some ideas and landed on a perennial favourite: Play Your Cards Right! You don't have to be a fan of Bruce Forsyth to fall head over heels for this great game - all you need is a little bit of luck!
Just like on the TV show, the goal is get across the board of 5 cards, by predicting whether the next card will be of higher or lower value than the last. Sometimes your choice is easy - you land yourself a face card and you will instinctively choose 'lower'.  But every now and then, even a sure thing can trump you as you find the most unlikely of cards is turned over and you lose this round!
The Play Your Cards Right Stall Hire looks amazing in the colourful red and white side stall cover, with the invitation to "Roll Up, Roll Up" on the front and the custom-made stand to hold all your cards.  You can even hire just the stand itself, without the stall, if you so desire!  As with all our Side Stall hires, we also include 50 novelty prizes so there's always some fun to win once you made it across the board!
What events are the Play Your Cards Right Stall Hire suitable for?
Being such an easy game to play and relying on a mix of luck and skill, makes the Play Your Cards Right Stall Hire perfect for all kinds of events and all kinds of players:
Fun Days
Promotional Events
Charity Events
Weddings
Shopping Centre Promotions
University Events
Sports Events
Birthday Parties
Children's Parties
Team Building
Key Features of the Play Your Cards Right Stall Hire:
Custom-made card stand
We include 50 novelty prizes with every Side Stall hire
Can be staffed by a Fun Expert or you can run this game yourself
Get control of the board and take your guess and it could be a good night if you Play Your Cards Right!  Nice to see you, to see you nice!
Equipment included with Play Your Cards Right Stall Hire:
Red & White Traditional Side Stall cover
1 x Play Your Cards Right Stand
1 x Giant Pack of Playing Cards
50 x Novelty Prizes
---
Equipment Size: 2.14m wide x 2.14m deep x 2.14m high
Operational Area Required: 3.14m wide x 3.14m deep x 2.14m high
Power: standard socket (if lighting is required) (generator hire available)
Staff: adult supervision required (staff hire available)
Number Of Users: 1
Recommended Age/Height of Users: 5 years and over
Access Requirements: please note that a width of 0.82m is required when moving the equipment through doorways and corridors. If you feel that access may be an issue, such as stairways or lift access, uneven surfaces, obstructions or perhaps long distances then please mention this in your enquiry.
Not only are there some fantastic ways to upgrade you package with additional products as seen in 'You May Also Like' below, you can upgrade the hire of your stall with the following:
Additional Prizes - every stall comes with a complimentary 50 novelty prizes. Do you know the footfall for your event; have you got an extended guest list? Make sure your guests walk away with a prize and enquire about our additional Prize Packages.
Bespoke Branding - the stalls are open to some fantastic branding options with front banner creating the perfect canvas. If you're wanting to promote your company brand or simply add something special to your hire, the branding of the front stall banner is the perfect option.
When speaking to the Fun Experts today, don't shy away from asking how you can upgrade your package.
Our guests thoroughly enjoyed the Funfair Stalls and have commented on how it gave the party a really fun feel. Thanks so much for adding the FUN to our event!
Jason Wouhra
The stalls were great quality and fun!! The guys were friendly and helpful! Would use again and recommend.
Emma Robinson
I have had 5 events through The Fun Experts. They all went really well and the staff were very helpful. I would definitely HIGHLY RECOMMEND!.
Sam Spencer
The fun fair stalls are very addictive and a great laugh. I would definitely use The Fun Experts in the future and would recommend to all.
Chris King
The highest compliment that I can pay to The Fun Experts and their excellent staff is that I have used them for my Fun Day for the past four years!
Barry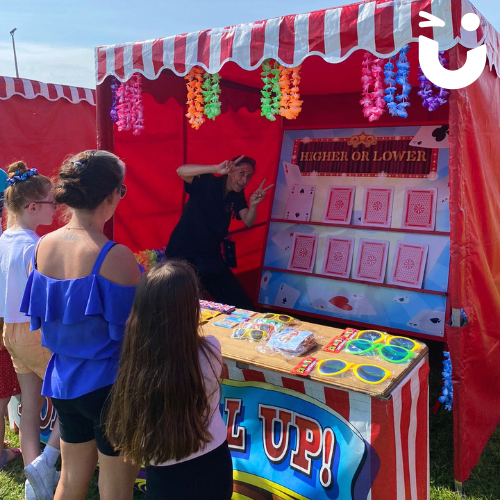 Play Your Cards Right Stall Hire has been added to your Event Quote.
Close
Call the Fun Experts to discuss your event: