Hook a Duck Stall Hire
Ask anyone to name their favourite funfair stalls and they'll probably list Hook A Duck among them. Traditionally, Hook A Duck Stalls feature ducks floating in a water trough, but as you can imagine, this could end in disaster and not all event spaces has access to to water, so we have an answer to all your duck-pond related problems!
All the ducks (of varying sizes) are lined up on the blue shelves (made up to look like water, of course), and you'll be given an extra long pole! The extended size of the poles make it all the more difficult to get your hook into the hoops on the duck's back so you'll need nerves of steel! Each duck has a number on the bottom - collect three ducks and if the number totals 21 then you're the winner and it's time to collect your novelty prize!
Set inside one of our amazing red and white stalls, the Hook A Duck Stall Hire is at its best when part of package of other stalls as part of a Funfair Theme.  Check out some of our other stalls and attractions that match in with this theme and compliment the Hook A Duck Stall Hire. 
What events are the Hook A Duck Stall Hire suitable for?
The Hook A Duck Stall Hire is definitely one of the most popular of our Side Stalls, so it's finds itself hired at all kinds of events that have the funfair theme.
Fun Days
Promotional Events
Charity Events
Weddings
Shopping Centre Promotions
University Events
Sports Events
Birthday Parties
Children's Parties
Team Building
Key Features of the Hook A Duck Stall Hire:
Comes in a beautiful red and white stall
Extra long poles supplied
50 novelty prizes included
Can be staffed by a Fun Expert or you can run this game yourself
Keep a steady hand and you won't 'quack' up with the Hook A Duck Stall Hire.  'Waddle' it take to get you to hire this amazing game? 
Equipment Included with Hook A Duck Stall Hire: 1 x Red and White Striped Stall Theming Yellow Rubber Ducks 2 x Poles 50 x Novelty Prizes Hook A Duck
---
Equipment Size: 2.14m wide x 2.14m deep x 2.14m high
Operational Area Required: 3.14m wide x 3.14m deep x 2.14m high
Power: standard socket if lighting required (generator hire available)
Staff: adult supervision required (fun expert available)
Recommended Age/Height of Users: 5 years and over
Access Requirements: please note that a width of 0.82m is required when moving the equipment through doorways and corridors. If you feel that access may be an issue, such as stairways or lift access, uneven surfaces, obstructions or perhaps long distances then please mention this in your enquiry.
Not only are there some fantastic ways to upgrade you package with additional products as seen in 'You May Also Like' below, you can upgrade the hire of your stall with the following: Additional Prizes - every stall comes with a complimentary 50 novelty prizes. Do you know the footfall for your event; have you got an extended guest list? Make sure your guests walk away with a prize and enquire about our additional Prize Packages.   Bespoke Branding - the stalls are open to some fantastic branding options with front banner creating the perfect canvas. If you're wanting to promote your company brand or simply add something special to your hire, the branding of the front stall banner is the perfect option. When speaking to the Fun Experts today, don't shy away from asking how you can upgrade your package.
Our guests thoroughly enjoyed the Funfair Stalls and have commented on how it gave the party a really fun feel. Thanks so much for adding the FUN to our event!
Jason Wouhra
The stalls were great quality and fun!! The guys were friendly and helpful! Would use again and recommend.
Emma Robinson
The 'Hook a Duck' was a hit at our conference! Everyone loved it, the prizes were great and the staff definitely fun! I only wish we'd got more.
Christian Jowles
The fun fair stalls are very addictive and a great laugh. I would definitely use The Fun Experts in the future and would recommend to all.
Chris King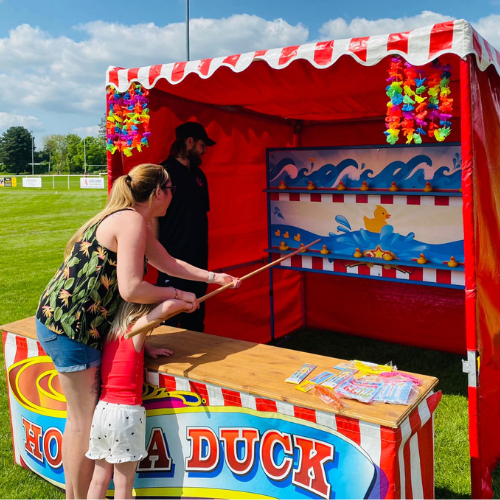 Hook a Duck Stall Hire has been added to your Event Quote.
Close
Call the Fun Experts to discuss your event: