HEALTHY LIFESTYLE WEEK: INFLATABLES + FUN = HEALTHY LIVING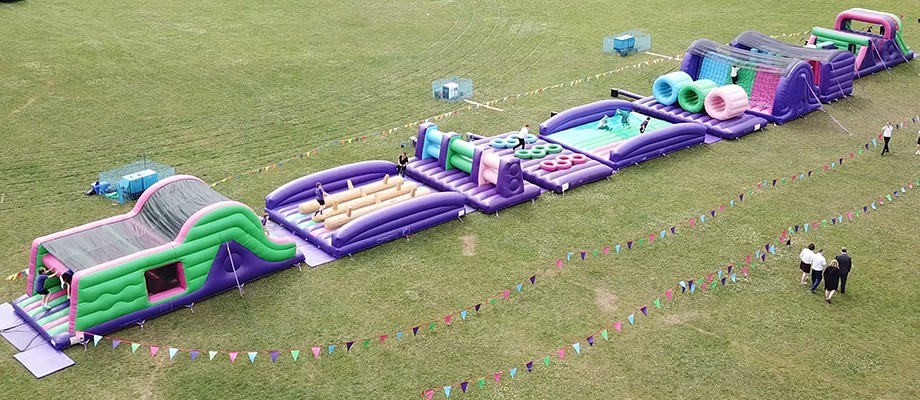 ---
The Brief
As part of the popular Healthy Lifestyle Week, one school - All Hallows Catholic High School - wanted students to ditch the desks and get active.  Healthy Lifestyle Week encourages children to take part in more exercise each day whilst also thinking about the benefits of a healthy lifestyle.
What better way to get the kids (and teachers...there's no escape!) active than with our very own inflatable Assault Course.
Our Response
Over the years we have expanded our obstacle course by adding more inflatable challenges. At an impressive 300ft long, the inflatable course involves running, jumping, climbing, sliding, ducking, scrambling and so much more...the perfect way to inspire exercise with the added element of fun!
The course included some ever popular inflatable challenges and also new designs created for 2018:
The Results
Jenna Car, Design and Technology teacher at All Hallows Catholic High School had this to say:
"Healthy Lifestyle Week was an opportunity for the school to enhance pupils' knowledge and understanding of the benefits of a healthy lifestyle including what they eat, how they exercise and how they rest.
"Throughout the week a variety of events took place, including the inflatable assault course very kindly provided by The Fun Experts, which created a unique, interactive way for pupils to become more active in an amazingly fun way.  
"Approximately 500 pupils were able to get the chance to run the course, so as well as racing their friends they were able to challenge themselves and their own misconceptions of exercise.  Watching the pure delight on the pupils' faces as they completed each assault was incredible.  We have never seen anything like it!  The buzz that the inflatables created afterwards was also fantastic.  They have not stopped talking about it since!"