Assault Course Hole In The Wall Hire
Assault Course Hole In The Wall Hire
Adding yet another (emphasis on 'another' - we've a fair few now!) challenging, but always fun, inflatable to our collection of Assault Courses, we're ecstatic to present the always fun and often hilarious to spectate - the inflatable Hole in the Wall Assault Course.
One of the more challenging of our assault course obstacles, this vibrant inflatable is perfect when either added to other sections to complete an Assault Course 'run' or hired on it's own. The challenge of the Hole in the Wall may bring on memories of Vanessa Feltz as she squeezed through an approaching wall on that prime time family friendly tv show, what was it called? Hole in the Wall rings a bell...perfect name for an inflatable. Anyway, challengers take on this inflatable by having to 'pull' the shape required to fit through the wall. Adding to the challenge is the fact there are two walls on each of the three lanes, each with a different shape to pull.
There's no simply diving through, so whether it's the Michael Jackson pose, a star jump or imitating Mr Bruce Forsyth, this addition to our range of obstacle courses is guaranteed to be a big hit at your event!
What events are the Assault Course Hole In The Wall Hire suitable for?
There is no denying that the Assault Course sections are the perfect addition to events with a competitive edge, but here are just a snippet of the events the Fun Experts have attended with the Assault Course Balance Run inflatable:
Team Building Events
Fun Days
It's A Knockout
Promotional Events
Charity Events
Birthday Parties
University Events
Sports Events
Key Features of the Assault Course Hole In The Wall Hire:
Can be used with other Assault Course Inflatables or as its own stand out piece
Attractive inflatable, featuring The Fun Experts well known brand of colours!
Upto 3 challengers can race through at once
Equipment included in Assault Course Hole in the Wall Hire:
1 x Assault Course Hole in the Wall Inflatable
Safety Mats
Power Leads
1 x Fan to Inflate (Power Required)
---
Equipment Size: 6.7m wide x 3.4m deep x 2.5m high
Operational Area Required: 8.7m wide x 5.4m deep x 2.5m high
Power: standard socket required (generator hire available 6.5kva)
Staff: adult supervision required (staff hire available)
Number Of Users: 3
Recommended Age/Height of Users: 5 years and over
Access Requirements: Please note that a width of approximately 0.7m is required when moving the equipment through doorways and corridors. If you feel that access may be an issue, such as stairways or lift access, uneven surfaces, obstructions or perhaps long distances then please mention this in your enquiry.
The fun doesn't have to stop with just the hire of the Hole in the Wall Assault Course section, there is plenty more fun to add with a number of upgrade options available:
Add On Sections - that's right, you can make the Mangles inflatable even bigger and more exciting by adding one of the many add-on sections we have available. Some of these are detailed in the 'You May Also Like' section such as the full Assault Course inflatable and Bish Bash inflatable section, but there are more...you could build the Assault Course up to 300ft!
If you're interested in upgrading your hire package, be sure to enquire with the Fun Experts who are sure to fill you with inspiration!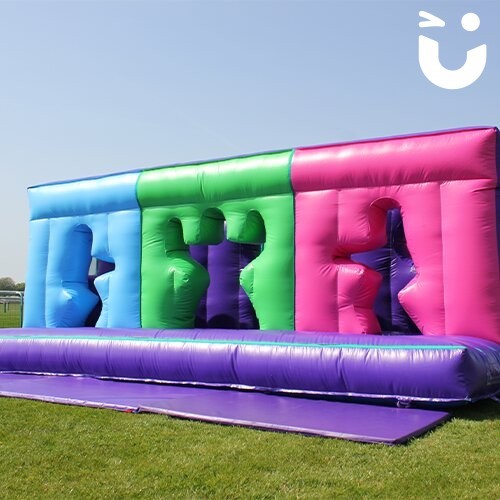 Assault Course Hole In The Wall Hire has been added to your Event Quote.
Close