Fun at Trevfest 2023!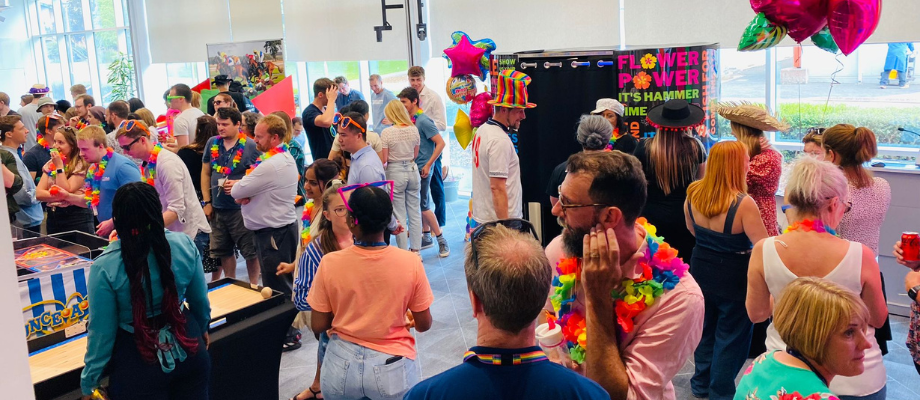 ---
What Infineum UK wanted...
If you were here this time last year, you might remember a Fun Day event we did for 400 fun-seekers from Infineum as they got together for the first time since before the pandemic. This year, Andrea Breading from Infineum got back in touch looking for lots of fun themed entertainment, this time not for a company Fun Day, but for a retirement party for Trevor, Infineum's CEO. Andrea was looking for equipment to go in multiple different zones around the site, covering a range of themes from carnival to Trevor's favourite hobby, golf and with less than a month to go, we quickly got to work putting together the ultimate retirement party for him and Infineum's staff...
How The Fun Experts helped...
After working on their beach themed Fun Day with them last year, our fabulous sales assistant Beth was more than happy to take on the challenge. With their budget and the deadline in mind, Beth put together a proposal for Andrea and after a few edits, they settled on the perfect line up of entertainment for the event. Kit included an Inflatable Zone with eight Inflatables from a Bungee Run to Golf Darts, the Carnival Zone featuring six Fairground Stalls, a Test of Strength, Circus Skills Workshop and Popcorn and Candyfloss, a Giant Games Area, Crazy Golf and the Indoor Zone jam packed with Interactive Games such as the Roll a Ball Donkey Derby, Dance Machine, ATARI Pong, Funky Photobooth and so much more.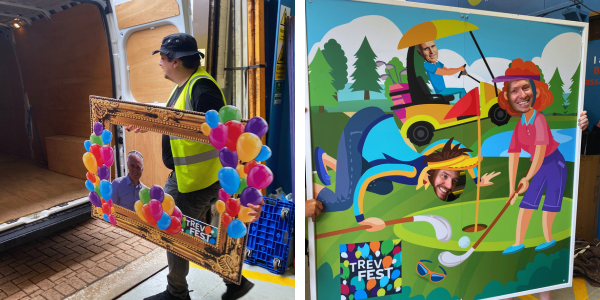 On top of all that, Infineum were also after a few personal touches to really bring Trevfest to life. This included a golf peep board featuring a cartoon of Trevor, a prop photo frame for the Photobooth, once again with Trevor's face inside, a pin board that Infineum staff could add photos to and finally a personalised stall front reading '19th Hole' that staff could use to serve golf themed mocktails. All of these Bespoke Products were designed in house by Beth (she's a woman of many talents!), along with a Trevfest logo which was the finishing touch. 

The Final Result
16 Fun Experts lead by logistics Co-Ordinator, James Hindle, drove down to Abingdon the day prior to Trevfest. They already had a good idea of what the site would look like thanks to last year's site visit and event, so were able to get stuck in and set up in time for the event to start at 11:30. The day kicked off with a presentation for Trevor and then it was time for staff to enjoy three hours of enjoying the fun. The whole event planning process was a massive success, especially since Andrea had already booked us in for a huge science themed Fun Day for their staff to show families what they do in the business before the event had even gone ahead. 

We can't wait for Infineum's next event... and we can't wait for yours either, we'd love an invite! For an event you can only begin to imagine, we'll bring it to life when you Contact The Fun Experts.