It's time for an October Overview...
|
02-11-2022
|
Posted By Mia Williams
---
Like most months at The Fun Experts, October has been a great one. As the seasons have changed, so have the events we've had the pleasure of attending and by now fun has officially made its way indoors. But never to worry, we've got the kit to ensure you have a great time whatever the weather and our clients over the last month have proven just that!
---
Across October, we've jumped on several flights to Vegas... well, not quite. But an evening featuring our very own Blackjack and Casino Roulette Tables, Las Vegas Backdrop and Red Carpet is pretty close! BCVA Ltd and Spire Healthcare had their staff feeling like VIPs as they held their very own casino nights with the help of us at The Fun Experts. And you can expect to see a lot more of these as the winter months approach, especially with our Casino Packages being a firm favourite for Office Christmas Parties come December.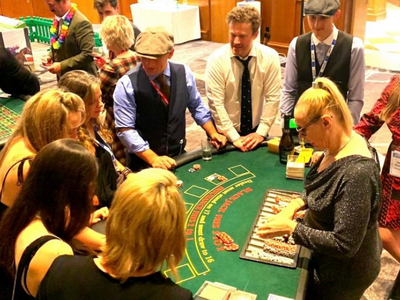 Some of you will know that employee engagement is at the heart of a lot of the work that's done at The Fun Experts, and we've been so happy to introduce some fun to so many workplaces across the UK this month. From Mway Comms Workplace Wellbeing conference which was the perfect way to celebrate Mental Health Awareness week, to BUPA's deliveries of fun in five locations across the UK we've helped a number of businesses to energise and motivate their employees with a range of equipment from Virtual Reality Experiences to Gold Cup Horse Racing and our first pool table! 

The month was topped off with a day out at Shout Expo for Director of Fun, Sunny Sandwell and our newest team member, Lauren. The event was an amazing opportunity to network and have some inspiring conversations with other businesses in the Northwest and it made it even better that we weren't just there to promote fun on our own stand, we also helped two other businesses add some to theirs! The event held at Bolton Whites saw our addictive Bounce a Ball, Giant Plinko and Mineshaft Madness turning heads and creating friendly competition across the venue.

---
And that's a wrap for October. But of course, the fun doesn't stop here because our favourite time of year is right around the corner. Now it's November it's officially time to start the Christmas festivities, right? Right! And there's no time like the present to book some entertainment, so Get in Touch with our Fun Experts and start planning a Christmas party to remember.