This was No Ordinary Expo...
---
This was Shout Expo! Director of Fun, Sunny Sandwell and Fun Expert, Lauren Woods, who recently joined the team headed there recently for their latest exhibition and had a fantastic time bringing some fun to their own stand as well as helping other businesses introduce some to theirs too. We were invited by Shout Network to their first exhibition in the Guild Hall a few months back and now to their one in Bolton, to talk to other businesses about the advantages of adding fun to their stands and showing them how it can be done.
---
After careful consideration, Sunny and Lauren along with our Logistics Co-Ordinator, Adrian, chose the exciting and addictive Bounce a Ball to go along to the Expo and be the star of our stand. But it wasn't just the Bounce a Ball that made an appearance on the day, as two other businesses asked us to supply some fun to their stands too! UCLAN chose our Giant Plinko while WHN Solicitors opted for Mineshaft Madness, both perfect ways to attract people to their stands and they weren't disappointed!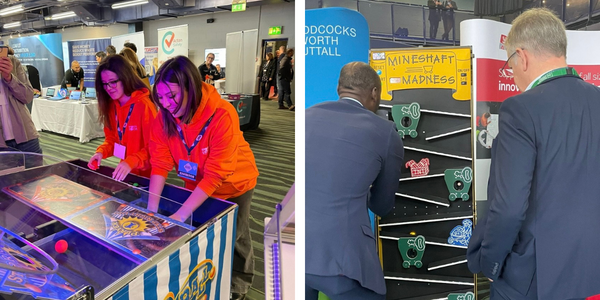 On the day of the event, the atmosphere was fun and relaxed for the duration of the event, which came from different crowd pulling methods, enabling relaxed conversations to take place rather than businesses simply sitting behind a desk waiting for people to come to the stand. Everyone in attendance was in good spirits and up for having a laugh while interacting with each other which was one thing that made this expo stand out, further proving the importance of fun at exhibition stands. Some of Sunny's highlights included meeting with Phil Cronshow and testing out some of his podcasting equipment and being gifted a proper Lancashire goodie bag from Lancashire Business View, which included biscuits, tea and coffee, as a thank you for supporting their awards every year.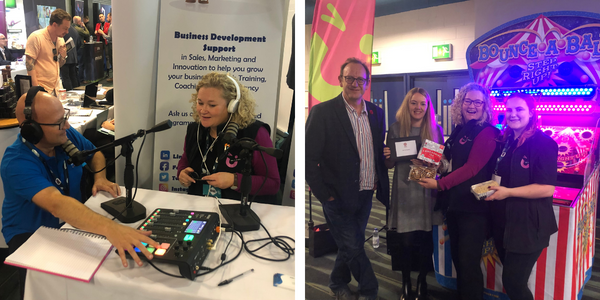 ---
We've loved attending both of Shout Expos exhibitions this year and can't wait to introduce even more fun to the next one! Have an exhibition coming up and looking for a little something to help you stand out and draw crowds to your stand? We've got just the things from Interactive Games to Fun Foods (always a crowd pleaser). Have a look for yourself at our Exhibition and Promotion Ideas and our Fun Experts will be happy to help!