Introducing 3 New Side Stalls...
---
At fairground themed summer Fun Days and events all year round for that matter, our Funfair Side Stalls are always a firm favourite amongst our clients. For years we've created and developed a wide range of carnival games from classics like Hook a Duck and Hoopla to Cork Shooting and our Funfair Target Stall and now this year, we're introducing three brand new Side Stalls just in time for your upcoming summer events. 
Frisbee Throw
Our new Side Stall will really test your aim as you attempt to toss multi-coloured frisbees into the holes and slots in the themed back board. Frisbee Toss is one of the more challenging of our fairground games but of course will be set in the same traditional red and white striped tent with plenty of novelty prizes to be won.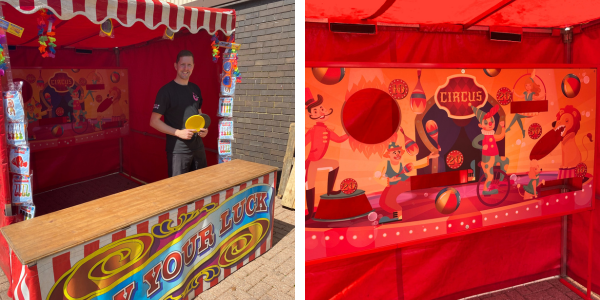 Prize Darts
It's in the name of the game, have a go at a round of darts and win a prize... if you score a bullseye that is! We've designed a range of dart boards that will be set up in one of our Fairground Stalls with the aim being simple, throw the darts at the target and score 180. The Prize Darts game can be played by all the family as you go head to head to see who can be the first to score a bullseye!

Shoot The Hoop
Our new Shoot The Hoop Side Stall is the latest addition to or range of basketball themed entertainment; the ever popular Basketball Challenge can now be enjoyed outdoors at your Fun Day event. Like the classic arcade game, go up against with a friend or family member and see who can make the most slam dunks, with a fun prize to be won for the Michael Jordan of your pair!

Want to be one of the first to have these brand new Side Stalls at your event? Our three new fairground games might not be available on the website quite yet, but if you can't wait, Give The Team A Call and they'll be able to get one of our brand new Side Stalls booked in for your event.