Coronation Weekend is coming...
---
Unless you've been living under a rock or you're not from the UK, you'll know that King Charles II's coronation is fast approaching and for most Brits nothing calls for a celebration quite like a bank holiday weekend, so when you throw a coronation into the mix, you can imagine The Fun Experts are going to be busy! Our team are already in preparation to head out across the UK to celebrate with many of you at your Family Fun Days and Community Events but not to worry, there's still plenty of fun to go around should you need some help planning your coronation weekend event...
---
Feeling patriotic? You're in luck because many of our equipment designs mean you can troop the colour with range of red, white and blue Striped Deckchairs, a range of entertaining and challenging Side Stalls, along with Fun Food Carts so you or one of our fabulous event team members can whip up a tasty treat for your guests including Popcorn and Candy Floss! We've got classic Fun Day favourites that will fit the theme perfectly as well as typically British Fairground Rides that will really impress your guests from the elaborate Victorian Carousel and Lighthouse Helter Skelter to the Ferris Wheel!

Hiring one of our live entertainers can really add the wow factor to your event, we work with several different agencies who, like us, are experienced in providing amazing event experiences and guarantee no less whether you opt for a Circus Skills Workshop, Stilt Walker, Face Painter or our very own Fun Bear. They'll also be more than willing to get in the spirit on coronation weekend, sporting Union Jack flags and all the trimmings!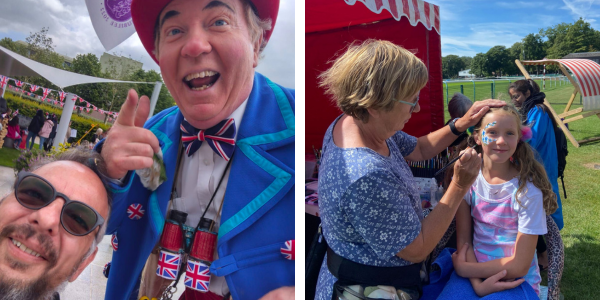 Are you holding a Coronation weekend event? We'd love an invite to celebrate with you! Now it's over to you... Get In Touch With Our Team and they'll be more than happy to have a chat with you about your event; even on our busiest weekends we'll always do our best to accommodate to you and bring you the most fun event experience possible. We hope you have a funtastic Coronation weekend whether you throw a celebration, in which case hope to see you there ;) or just enjoy a relaxing bank holiday!