A Festive Makeover for our Funfair Stalls!
---
Do you hear what I hear? No, not the mini heatwave that's hit the UK over the last week, we're choosing to ignore that for now! We're thinking about decorating the tree, eating Quality Street, Mariah blasting on the radio and of course all the fun Christmas Events we'll be attending come December. Preparations have already begun here at The Fun Experts with our sales team hard at work planning your events and the logistics team getting all the equipment ready, including giving the Side Stalls you know and love their annual revamp that makes them fit for any form of festive fun.
Hook a...
Duck right? As the classic carnival game goes Hook a Duck and win a prize but at The Fun Experts we do things a little bit differently... come December you'll find our line up of rubber ducks dressed up in festive fits and to win you'll have to hook the duck with our lucky number on the bottom. Set in our traditional fairground themed red and white tents with a stall front featuring snow and holly to give it that festive feel, this funfair classic is the perfect fit for any Christmas fair.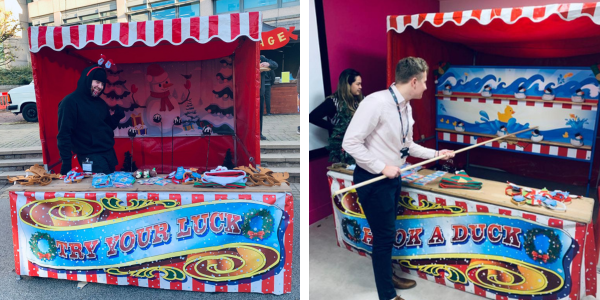 A Christmas Coconut Shy?
When you a picture a Coconut Shy, you probably think of a tropical island or a beautiful beach backdrop, not very festive right? Well what if we swapped coconuts for a Christmas Pudding Shy? The game remains the same, grab a beanbag, do your best to knock one of the puddings from its podium and win yourself a prize. Of course we don't do things by halves at The Fun Experts, so this won't be any old prize, as we swap out leis, sunglasses and blow up instruments for Santa hats, reindeer antlers and inflatable festive friends come the Christmas season.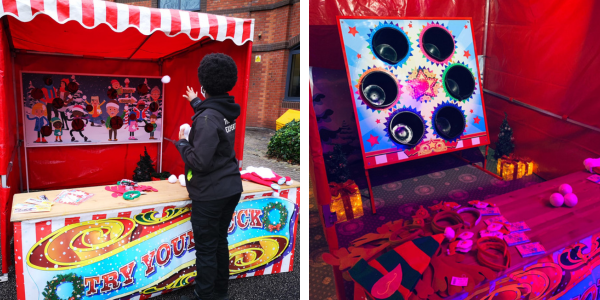 Snowballs galore!
One of the key components of so many of our Side Stalls is the need for hand and eye co-ordination that makes them a tricky but equally fun challenge. Roll up, roll up and get ready to test your aim with our Christmas Stalls, warm up with our Snowball in a Bucket and decide for yourself whether this funfair game is really a game of luck or skill before you move onto the big one, our Snowball Toss. The backboard for the Snowball Toss was designed in house and features a snowy scene with children taking part in a snowball fight and requires you to join in by throwing your own snowballs into the holes on the board.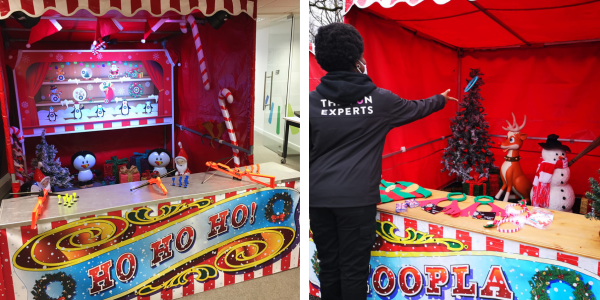 And that's not all! We've got a huge variety of festive Side Stalls that includes even more, spanning from our Christmas Funfair Target Range to our Penguin Skittles and we really would be here until December if we went through them all! Take a look for yourself, trust us you won't be able to resist adding some of our Christmas magic to your upcoming events...