Around the World with TE Connectivity!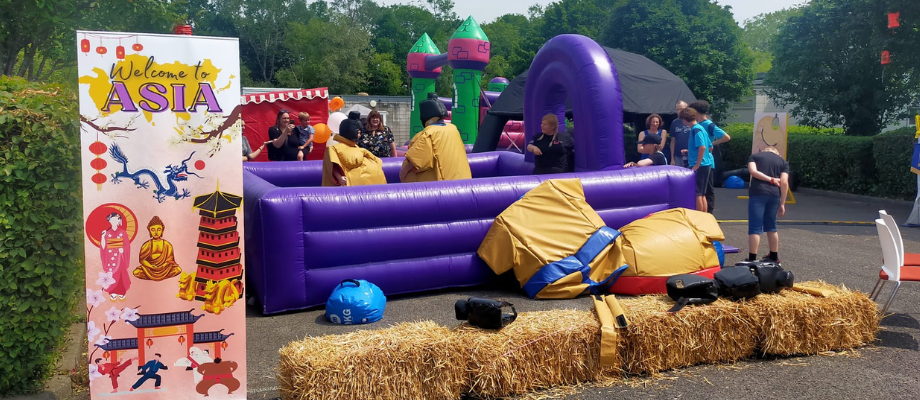 ---
What TE Connectivity wanted...
Prior to the pandemic, global technology leaders, TE Connectivity, were planning a Family Fun Day for 400 guests with an international theme to represent the global scope of TE. Unfortunately, these plans had to be put on hold for a few years, however earlier this year they returned to The Fun Experts to hold the event once and for all. TE Connectivity wanted a set up of different entertainment that would represent countries across the globe, so that guests could 'visit' each continent.
How The Fun Experts helped...
Our head of sales, Camille, got in touch with the event's organiser and began to put together an itinerary for an out of this world event. After some brainstorming, Camille came up with the brilliant idea to create bespoke TE Connectivity passports that each guest would receive on arrival and be able to travel around each area, having fun on the equipment and collecting a sticker from each country, aiming to complete the full set. When creating a package of fun for this event, Camille selected pieces of our pre-existing range of kit that would fit the theme and then began designing some new pieces for the remaining countries and continents.
When in Rome... replace frisbees with pizza! Which is exactly what Camille did when selecting entertainment for the Europe area, transforming our new Frisbee Throw Stall into a Pizza Toss while other European fun included the Test of Strength and Soft Target Archery, to represent Germany and Greece. Jetting over to Asia, we had the national sport of Japan, our Sumo Ring Inflatable, a Chinese lantern Craft Table and Hook an Elephant Side Stall, while in Africa, guests were able to enjoy drumming workshops and our Hungry Hippos Inflatable. Over in the Americas we had one of Brazil's favourite sports in the form of our Football Shoot Out, as well as the Basketball Inflatable and Axe Throwing representing the USA and Canada. Down under, guests had fun competing for the high score on our Surf Simulator and New Zealand's Rodeo Sheep, then finally headed even further south to Antarctica where they would be able to grab a photo in our Snow Globe as it made it's 2023 debut and have a go at the Penguin Skittles Side Stall. 

The Final Result
Prior to the event, Fun Expert and Logistics Co-Ordinator, James Hindle, performed a site visit at TE Connectivity in Swindon. Site visits are not a necessity at all events, however we did advise one for TE Connectivity due to the scale of the Fun Day. Once James had checked out the venue and determined that it was all good to go, the countdown was on for the big day. Fifteen Fun Experts travelled down to Swindon the day before the event and were met by two more just in time to get all set up and ready to go. The event took place between 2 and 6pm, which gave guests plenty of opportunity to fill their passports and have lots of fun exploring each corner of the globe.

Whatever event you're throwing, no matter the theme, our entertainment can be made especially to fit your day. All of our branding and equipment designs are done in house, so with enough notice we can indeed create a bespoke event experience just for you. Contact The Fun Experts today to explore your options and start planning an event that is as 'out of this world' as TE Connectivity's!