10 Hours of Fun with La Freeterie!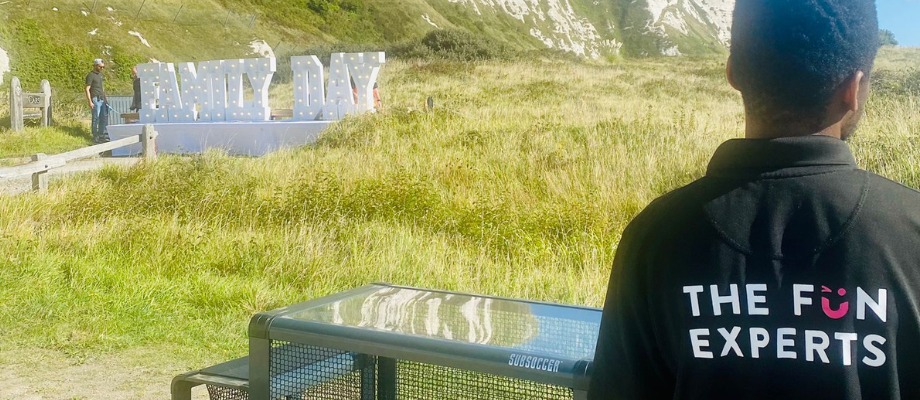 ---
What La Freeterie wanted...
French company La Freeterie understand the importance of rewarding their staff and bringing them together for some fun and this September they had a huge Family Day in mind for 400 guests made up of staff and their families, held at the Eurotunnel nature reserve, Samphire Hoe, in Dover. With catering and live music coming together to keep their employees entertained all day long, La Freeterie wanted The Fun Experts on board to provide some Arcade Games and Inflatables, Face Painting and more to impress their guests. 

How The Fun Experts helped...
While the event was being held in the UK, La Freeterie is actually a French based company, so it took Fun Expert Lauren a little logistical work to  figure out how booking and payment would work but it wasn't long before it was full steam ahead on the event planning train!
The event's organiser Jennifer had some specific entertainment in mind for the day event including our Subsoccer, Carnival Coin Roller and Bowl O'Rama and our Photo Booth for the night event, however when it came to choosing Inflatables, she needed some advice on which options would be suitable for different aged children from toddlers to teens and hold up in windy conditions. Advising you on the best equipment for your event is exactly what our sales team are here for and so Lauren recommended the Children's Playzone, Basketball Inflatable and Surf Simulator for the day event.

Jennifer's entertainment package was all starting to come together when two of the Inflatables were booked by another client (they do get snapped up quickly!) but luckily she was happy to swap with the Bungee Run and Human Table Football, as recommended by Lauren. Now all of the equipment was secured, it was over to logistics to confirm the final details...
The Final Result
With a busy few days head of them, Fun Experts Mo, Ibuku and Maria loaded up the van and started the drive down to Dover a day ahead of La Freeterie's Family Day; they then rested up at the hotel and woke up the next day ready for a full on but fun ten hour event. Our event team pulled up at the venue and set up the Inflatables and Games ready for the day portion of the event, which was being held for 11am to 5pm and were greeted with amazing views of cliffs and blue water. La Freeterie were generous enough to cater for our team, providing them with lunch and dinner before the evening portion of the event, where our Photobooth snapped the night away. 

At The Fun Experts we specialise in creating a simple event planning process, where our clients feel assured that they're in safe hands, whether that means advising you on the best entertainment options or offering solutions to different issues that may occur. Experience it for yourself when you Get in Touch with the team and choose The Fun Experts for your next event.