Ski Slalom Team Building
Good communication is the name of the game on a Team Building event.  Getting your colleagues to talk to each other and work together for a common goal is the best way to encourage morale and increase their productivity once they head back to work.  There are lots of ways you can facilitate the communication but none are more fun than the amazing Ski Slalom Hire!
The overall goal is simple - get your team from one end of a track to the other. Sounds easy? Great! Now tell your teams that they need to do this on two wooden boards… not so easy now is it?  The boards are connected to ropes and it's down to the team to coordinate their efforts to move in unison.  Timing and communication are the key here, so all together now... LEFT,  RIGHT, LEFT,  RIGHT!
The Ski Slalom Hire works great as a simple race, or can be used as part of a bigger challenge - check out the It's A Knockout Package to see how we use the Ski Slalom Hire in the Winter Ski Challenge. You can be sure that once the team starts to work in unison, locomotion becomes easy and they start to motor along at speed.
What events are the Ski Slalom Hire suitable for?
The Ski Slalom Hire is designed to get people to work together so it's ideal for Team Building events, but it's equally fun at Fun Days and private events when you want to get everyone involved.
Team Building
Private Parties
Fundraising Events
Promotional Events
Charity Events
University / School Events
Birthday Parties
Key Features of the Ski Slalom Hire:
Can be collected from our Preston depot
Promotes teamwork and good communication
Versatile enough to be used in all kinds of games
So strap on your skis and head down the slopes… oh, they aren't that kind of skis. Call the Fun Experts today and we'll figure out what kind of skis these things really are… eventually.
Equipment Included with Ski Slalom Hire: 6 x pairs of Ski Slalom boards
---
Speak to a Fun Expert today to discuss the bespoke upgrade options available from additional equipment, branding, prizes, props and theming. As we own all our own equipment we have the flexibility to adapt equipment to suit your requirements.
The Fun Experts organised our company Team Building event. I will definitely be recommending them to other projects in our company.
Victoria Callow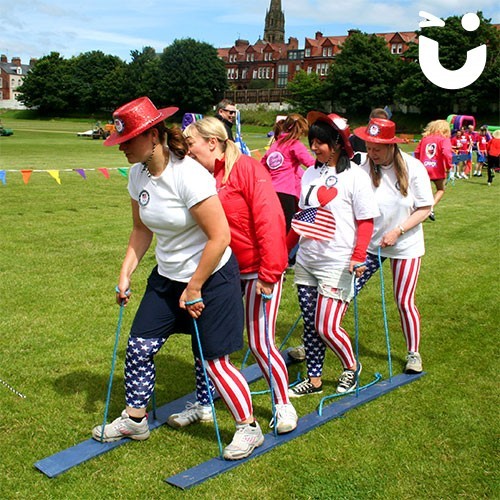 Ski Slalom Team Building has been added to your Event Quote.
Close
Call the Fun Experts to discuss your event: