Walk the Plank Team Building
Walk the Plank Team Building
The floor is LAVA!  Remember this game from when you were little?  When you would jump from the settee to cupboards, avoiding the floor at all costs? Often players would race each other to reach a goal using items as bridges, stepping stones and other traversable paths. That's the premise behind the Walk The Plank Hire, which is one of our most popular Team Building activities in our great range.
The simplest version of the game is to get your team from one end of a track to the other, without touching the floor.  We give you a number of planks and blocks which you can use to create a bridge on which your team can stand.  You won't get far though, until the plank from the back of the bridge is passed along your team to the front.  Then it's just a case of laying it in front of you on the blocks, allowing the team to advance!
We also use the Walk The Plank Hire as part of our It's A Knockout Package in the River Cross Challenge game.  This activity adds and extra element of fun to the game as it requires you to solve a logic problem first, before using the planks to cross a treacherous river! In any case, the Walk The Plank Hire is bags of fun!
What events are the Walk The Plank Hire suitable for?
Team Building events will benefit greatly from the Walk The Plank Hire but it's equally as fun at parties and fun day events where you need to introduce a fun game for everyone to take part in.
Team Building
Fun Days
Private Parties
Fundraising Events
Promotional Events
Charity Events
University / School Events
Birthday Parties
Key Features of the Walk The Plank Hire:
Can be collected from one of our depots across the UK
Great for teamwork and good communication
No end to the fun variations on this game!
Turn your Team Building event into a sensation by bringing the Fun Experts into the fold and you'll soon see why we're number one for fun!
Equipment Included with Walk The Plank Hire:
10 x long planks
15 x support blocks
---
Speak to a Fun Expert today to discuss the bespoke upgrade options available from additional equipment, branding, prizes, props and theming. As we own all our own equipment we have the flexibility to adapt equipment to suit your requirements.
The Fun Experts organised our company Team Building event. I will definitely be recommending them to other projects in our company.
Victoria Callow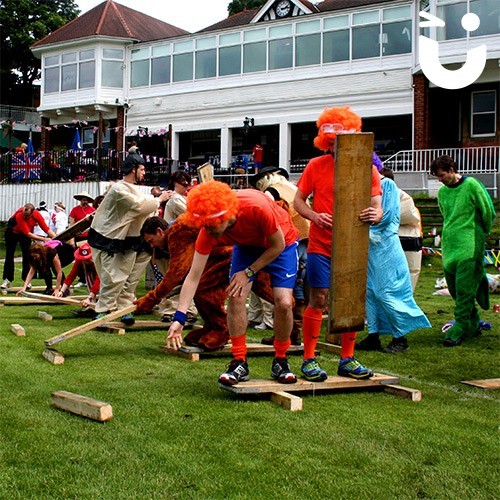 Walk the Plank Team Building has been added to your Event Quote.
Close
Call the Fun Experts to discuss your event: