Winners Podium for Team Building
Winners Podium for Team Building
You've done it!  You and your team have achieved the impossible.  You've beaten the odds; you've taken on all comers and it's time to revel in your glory so it only makes sense that you should take your place on the Winners Podium!
First-, second-, and third-place will all get the chance to make their mark on the event as they each get their own step on the podium, with each placing set at a different height - first place, of course, being the highest!  Once the winners have been announced they can take their place on the podium, or send their team captain, if there's too many of them, but that doesn't mean that everyone can't get involved when the bottle of bubbly is cracked open and sprayed around in classic Formula One style!
What events are the Winners Podium Hire suitable for?
The Winners Podium is best used a Team Building events where an overall winner for the day will be announced, but that doesn't preclude it from being used at all kinds of events with a competitive edge.
Team Building events
Fun Days
University Events
Sports Events
Bar Mitzvahs / Bat Mitzvahs
Charity Events
Exhibitions
Key Features of the Winners Podium Hire:
A great add-on to your event package
Can be collected from our depot
Durable and sturdy!
Add an extra sense of fun to your event and celebrate the the victory in style.  The Winners Podium is a great feature to go along with any of the team building activities. 
Equipment Included with Winners Podium Hire:
Equipment Size: 1.9m wide x 0.7m deep x 0.5m high
Operational Area Required: 2.9m wide x 1.7m deep x 0.5m high
Staff: adult supervision required (staff hire available)
Number Of Users: aprox 8
Recommended Age/Height of Users: 5 years and over
Access Requirements: please note that a width of 0.82m is required when moving the equipment through doorways and corridors. If you feel that access may be an issue, such as stairways or lift access, uneven surfaces, obstructions or perhaps long distances then please mention this in your enquiry.
Speak to a Fun Expert today to discuss the bespoke upgrade options available from additional equipment, branding, prizes, props and theming. As we own all our own equipment we have the flexibility to adapt equipment to suit your requirements.
The Fun Experts organised our company Team Building event. I will definitely be recommending them to other projects in our company.
Victoria Callow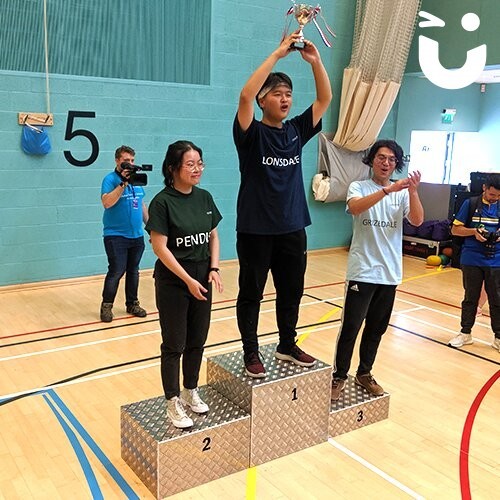 Winners Podium for Team Building has been added to your Event Quote.
Close
Call the Fun Experts to discuss your event: