Rodeo Football Hire
Just when you thought we'd ran out of ideas for new Rodeo Rides... In comes our brand new Rodeo Football! There's no end to the fun that can be had with our ever expanding range of multi rides and now it's officially match time, as you and your guests can now hop aboard the giant football, grab onto its handles and do your best to stay at the top of your game.
This shiny sphere shaped Rodeo Ride is a first for The Fun Experts and has a slightly higher difficulty level than the others, but rest assured you're in safe hands as your referee (one of our experienced Fun Experts) has full control of the ride's speed at all times, getting ready to blow the whistle and release the joystick, stopping the Football should you land on the inflatable bed so there's no bumped heads.
Whether you're in the starting line up or cheering your team mates on from the bench, the Rodeo Football is a thrilling and fun addition to footie themed events, Football Fanzones and Team Building Days. Who will stay on the longest and earn the 'Man of the Match' title? There's no better way to find out than to hire the Rodeo Football for your next event...
What events are the Rodeo Dino Hire suitable for?
Fun Days
Team Building
Promotional Events
Charity Events
Weddings
Childrens Parties
Shopping Centre Promotions
University Events
Key Features of the Rodeo Football Hire:
Controlled by our fully trained Fun Expert
Instant-stop safety feature
Great at all kinds of events
Competition timer in the base unit.
So, saddle up and you will find yourself having the time of your life as the Football tries to buck you off - you'll be rolling around with laughter once you hit the inflatable bed!
Equipment Included with Rodeo Dino Hire:
1 x Rodeo Football Attachment
1 x Inflatable Base
1 x Control Station
Safety Mat
Power Leads
1 x Fan to Inflate (Power Required)
A Fun Expert 
Also Known As: Bucking Bronco, Mechanical Football, Rodeo Ride
Users must be at least 1.2m tall or at least 10 years of age.
Equipment Size: 4.6m diameter x 1.6m high
Operational Area Required: 6.6m diameter x 2.6m high
Power: standard socket required (generator hire available 6.5kva)
Staff: trained operator provided
Number Of Users: 1
Recommended Age/Height of Users: Users must be at least 1.2m in height, or able to mount the Rodeo unassisted
Access Requirements: Please note that a width of 0.85m is required when moving the equipment through doorways and corridors. If you feel that access may be an issue, such as stairways or lift access, uneven surfaces, obstructions or perhaps long distances then please do not hesitate to mention this at the time of enquiry.
Speak to a Fun Expert today to discuss the bespoke upgrade options available from additional equipment, branding, prizes, props and theming. As we own all our own equipment we have the flexibility to adapt equipment to suit your requirements.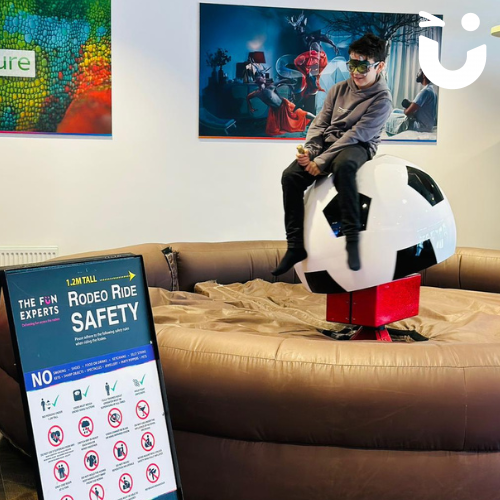 Rodeo Football Hire has been added to your Event Quote.
Close
Call the Fun Experts to discuss your event: