Rodeo Donkey Hire
As a quirky alternative to the classic Rodeo Bull, the amazing Rodeo Donkey is one way to provide all the twisting and turning fun of the Bucking Bronco to your event.  Just climb onto its back and grab on as the Rodeo Donkey will try and buck you off and send you flying on to the soft inflatable bed.  But should you hold fast, you might find that you can conquer this wild stallion!
Expertly controlled by our trained Fun Expert, the Rodeo Donkey has full maneuverability in all directions so it's imperative that all aspects of safety are taken care of: the control station has a failsafe device that immediately stops all movement of the Donkey once the rider is thrown off and the operator releases the joystick. The back of the donkey's head also has a soft padded section to protect against any potential bumps. We also ensure that the Donkey is ridden by people who can handle the experience, so those who are too young, too small, or too drunk, won't be able to ride.  The built-in competition timer can let you know how long you managed to stay on for too!
The great thing about a Rodeo Donkey is how it can be used at all kinds of events: its first ever event it went on was a Mexican themed party, but a simple change of its hat allows it to be used at all kinds of other themed events - beach parties, farm themed hoe-downs, Western themed corporate events! And should the weather not be quite as planned, we can also provide an Inflatable Canopy to ensure that everyone still has a great time.
What events are the Rodeo Donkey Hire suitable for?
The Rodeo Donkey is great at all kinds of events, as it's a superb alternative to the Rodeo Bull if you need to add a little quirky ride to your party.
Fun Days
Mexican Themed Events
Birthday Parties
Children's Parties
Beach Parties
Promotional Events
Charity Events
Weddings
Shopping Centre Promotions
University Events
Key Features of the Rodeo Donkey Hire:
Ably controlled by our Fun Expert
Features an Instant-stop safety measure
A quirky alternative to the Rodeo Bull
Competition timer in the base unit
So hopefully you won't make an 'ass' of yourself on the Rodeo Donkey and your event won't be on 'burro'd' time!  Brush up on your Spanish if you didn't get that last pun.
Equipment included with Rodeo Donkey Hire:
1 x Rodeo Donkey Attachment
1 x Inflatable Base
1 x Control Station
Safety Mat
Power Leads
1 x Fan to Inflate (Power required)
A Fun Expert 
---
Equipment Size: 4.6m diameter x 1.6m high
Operational Area Required: 6.6m diameter x 2.6m high
Power: standard socket required (generator hire available 6.5kva)
Staff: trained operator provided
Number Of Users: 1
Recommended Age/Height of Users: Users must be at least 1.2m in height, or able to mount the Rodeo unassisted
Access Requirements: Please note that a width of 0.85m is required when moving the equipment through doorways and corridors. If you feel that access may be an issue, such as stairways or lift access, uneven surfaces, obstructions or perhaps long distances then please do not hesitate to mention this at the time of enquiry.
Speak to a Fun Expert today to discuss the bespoke upgrade options available from additional equipment, branding, prizes, props and theming. As we own all our own equipment we have the flexibility to adapt equipment to suit your requirements.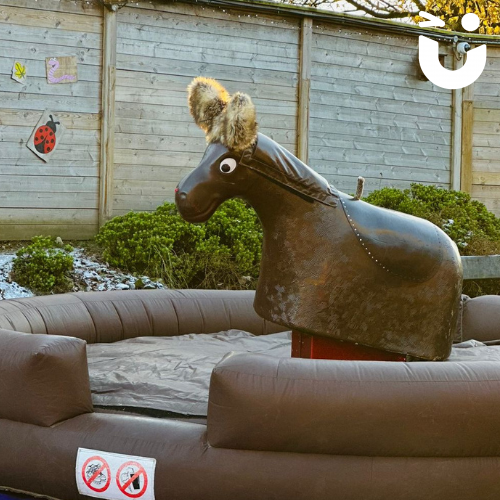 Rodeo Donkey Hire has been added to your Event Quote.
Close
Call the Fun Experts to discuss your event: