Wooden Carts Hire (Empty)
Wooden Carts Hire (Empty)
Everyone likes a nibble on something sweet or savoury at a fun event. Perhaps you would like to serve up some intricately designed cupcakes of all colours and flavours? Or do you fancy handing out tasty homemade vegan treat filled with fruits, berries and nuts? Homemade lemonade? But you have a problem - you need somewhere enticing to display and serve your ware.  Enter the Wooden Cart Hire!
Decorated in traditional red and white with an eye-catching striped roof, the Wooden Cart Hire is ideal for any event that needs a welcoming stand for your guests to receive a tasty treat, information pamphlets, gift bags… pretty much anything at all!  The only limit, as they say, is your imagination.
The Wooden Cart Hire is particularly suited for Christmas events - not only do the colours match Santa's red and white suit - but there are a great range of festive foods that you could serve from the cart.  Imagine stacks of mince pies, a serving bowl of hot mulled wine or, if you're feeling particularly adventurous, you could knock up some hit roasted chestnuts! Surely the sights and smells of your foods on our Wooden Carts would only enhance the Christmas feeling to all those around.
What events are the Wooden Cart Hire suitable for?
Many events are helped by the addition of some amazing culinary delights and if your event needs that extra special stand from which to serve those delights, then the Wooden Cart Hire is for you!
Fun Days
Christmas Events
University Events
Sports Events
Birthday Parties
Bar Mitzvahs / Bat Mitzvahs
Promotional Events
Charity Events
Weddings
Shopping Centre Promotions
Key Features of the Wooden Cart Hire:
Amazing bespoke wooden cart decorated in red and white
Hire up to 5 identical carts
Don't forget we can also supply fun foods to serve from the Wooden Cart - check out the Pick and Mix Cart, Fruit Cart, Popcorn Cart and Candy Floss Cart!
Equipment included in the Traditional Wooden Carts

:
1 x Traditional Wooden Cart
---
Equipment Size: 1.3m wide x 1.0m deep x 2.2m high
Operational Area Required: 2.3m wide x 2.0m deep x 2.2m high
Speak to a Fun Expert today to discuss the bespoke upgrade options available from additional equipment, branding, prizes, props and theming. As we own all our own equipment we have the flexibility to adapt equipment to suit your requirements.
The highest compliment that I can pay to The Fun Experts and their excellent staff is that I have used them for my Fun Day for the past four years!
Barry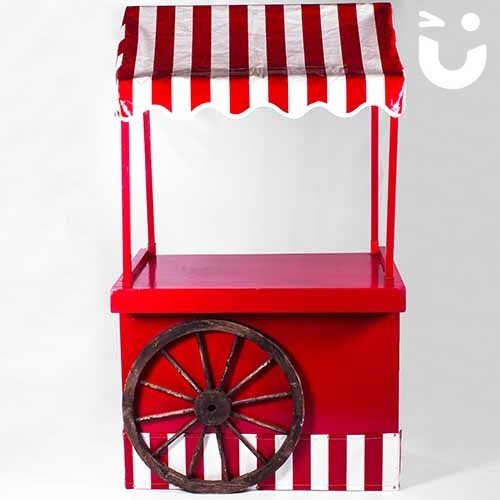 Wooden Carts Hire (Empty) has been added to your Event Quote.
Close
Call the Fun Experts to discuss your event: