Disco Night at the Red Rose Awards!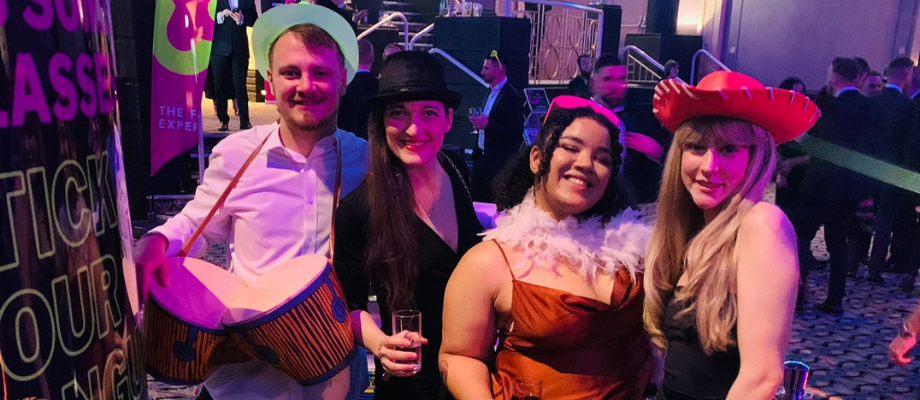 ---
What Lancashire Business View wanted...
Over the last few years, The Fun Experts have been extremely proud to be sponsors of corporate entertainment at the Red Rose Awards, an event organised by Lancashire Business View that takes place each year, celebrating Lancashire based businesses. Naturally, when Rachael Norris, Marketing and Events director at LBV, reached out to our team for some entertainment that would fit this year's disco theme we were delighted.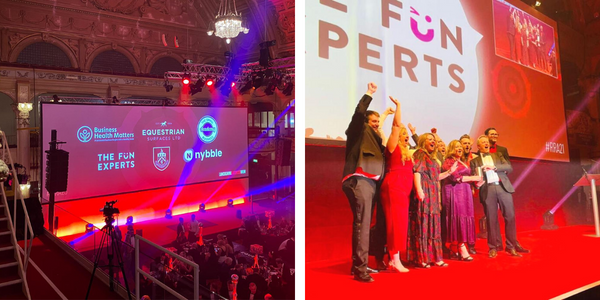 How The Fun Experts helped...
The amazingly creative Beth from our sales team jumped to the challenge and quickly got to work brainstorming ideas for a disco themed bash and creating an event proposal that could help Rachel narrow down the final entertainment line up. In the end, a firm favourite from previous years, our Roll a Ball Donkey Derby, was selected alongside other popular equipment that was given a disco themed makeover. For the drinks reception, we created a bespoke disco dancer shaped Buzz Wire and upgraded our Basketball Challenge with some brightly coloured balls and hanging disco balls, while the after party boasted a Candy Floss Cart with a custom sequin skirt and a Photobooth with a brand new funky skin and disco themed Props including novelty glasses, glitter hats, inflatable instruments and wigs. 

The Final Result
On the day of the Red Rose Awards, three of our Event Team members, George, Jenny and Ric headed to Blackpool Winter Gardens, where the event took place, ready to get set up and ensure all of the entertainment and branded flags were ready to go when the guests arrived. Our Fun Experts of course had to test out some Candy Floss before the guests arrived for the Drinks Reception at 5:30 and then it wasn't long before guests were flocking around our equipment for a turn. Among the guests were our Directors of Fun Sunny and James Sandwell, who judged the Design category and and had a fabulous time watching the awards along with our Fun Experts team. The equipment was then moved to the arena for the After Party where everyone partied like they were in Studio 54 until 2am! Everyone in attendance whether winners, nominees or just there for a good time had an incredible evening and it was an absolute pleasure to provide the fun for the event. 

Holding a themed event this year but not sure what entertainment would be the best fit? Our team of fantastically creative Fun Experts can help! Whether you choose one of our pre-curated Party Themes such as Las Vegas, Wild West, Fairground or have an idea of your own that you need a hand pulling off, our team can work with you to create bespoke kit or adapt equipment that takes your fancy to fit any theme. Contact The Fun Experts today to start your best event planning experience yet!