Directors of Fun Visit Santa
---
What lengths do you go to research for your business? Well, our Directors of Fun, Sunny and James Sandwell, travelled 2,239 miles to gather some inspiration for our own Santa's Grottos when they headed to Lapland to meet with the big man himself! 
---
The two of them flew out to the home of Father Christmas, situated in Finland and within the Arctic Circle and were greeted with thermal snow suits to change into along with sleighs and snowmobiles ready to transport them to a beautiful winter wonderland. No strangers to fun, it was there that Sunny and James got the chance to try their hand at driving a snowmobile or riding a toboggan. At lunch, it was time to enter the snowy igloo and enjoy some traditional hot berry juice before jumping in a sleigh ride and being transported to Santa's Grotto. Once inside, Sunny and James marvelled at his cosy cabin and got the chance to have a chinwag with him and get some decorating tips for The Fun Expert's own Christmas Grottos!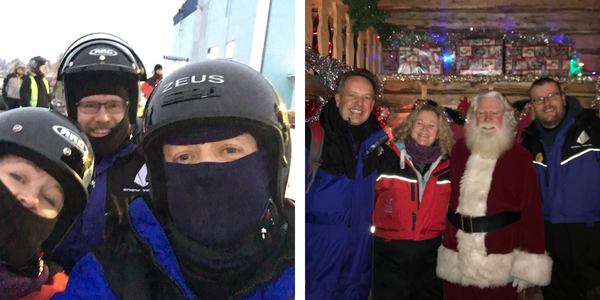 Following their trip to Lapland, our Directors of Fun returned back to our Preston depot with not only magical memories but a whole load of ideas to inspire our festive equipment. Our Snow Globe and Winter Wonderland Packages now have stunning backdrops and snow-covered prop Christmas trees that are reminiscent of Sunny and James' trip and our range of Christmas Grottos have that authentic look, decorated for festivities just like the cabin they visited in Finland.

If you can't make it to Lapland this Christmas, let The Fun Experts bring it to you with our range of festive equipment available to hire for your Christmas Events and Parties. Your guests will never know they aren't seeing the real thing! Contact Us today to experience some Christmas magic delivered straight to you this December.