#TBT - Random Acts of Kindness Day 2022
---
All the way back in 1995, the Random Acts of Kindness Foundation was founded, over the pond in the U.S. Since then we have come to celebrate the act on a specific day each year - 17th February.
It's fair to say that in the last couple of years, the random act of kindness really has had an influence, significantly so throughout the pandemic years. We love to hear the stories that are shared through this fantastic act, especially when they're sprinkled with an element of Fun!
And don't forget, Random Act of Kindness isn't restricted to just the one day or week...
So for 2022, we thought we'd take a look back: The Fun Experts history of Random Acts of Kindness are true feel good moments and full of fun feels, so let's #TBT and let's see if we can inspire you to do the same...
It was feeding time at Blackpool Zoo...
As we said - Random Acts of Kindness don't have to be just one day! You can pay it forward any day, for any cause. Back in November 2021, Blackpool Zoo were in need of help. It turns out that Blackpool Zoo is home to some very hungry elephants and chimps! So hungry in fact, that they can make their way through a kilo of popcorn in seconds which was taking the Zoo DAYS to make.
Animal handlers at the Zoo were in need of help...so a food full of Fun was about to be donated...You can read the full story right here
Random Acts of Kindness Day 2021
Last year, we were in lockdown...again. So The Fun Experts decided to brighten up your days and give you the chance to share a random act of kindness with someone you thought thoroughly deserved it.
Reaching out to all of you, we asked you to share your stories, from friends and family to colleagues or community heroes. Inundated with your stories, we were blown away with some true heroes of the moment. 
A lucky ten were selected and in the post they were sent a very special Fun Box indeed
"Just wanted to say a MASSIVE thank you to you and the team for sending out a Fun Box to my nominee. I can't tell you how grateful I was to see her smile after she received your package last Friday. I honestly didn't expect anything after I forwarded her name - but I'm glad I did as you did not disappoint."
The Fun Boxes - available from Fun Depot - were, throughout the pandemic, a popular gift to share with others. Including the likes of the Wellbeing Fun Box, each one shared some happiness that lasted longer than a moment.
Remember, it's more than one day...
Throughout the years, The Fun Experts have been proud to support causes such as Cash For Kids, to be in a position to pay it forward - not just in a working day and environment, but outside of it in our personal lives - is one that truly makes it all worth while.
Highlights of Random Acts have included opening up the Ice Cream Bike within our business park - surrounded by a variety of businesses next to our head office, from Accountants to Digital Agencies, Electricians to Recruitment...well, who doesn't like ice cream!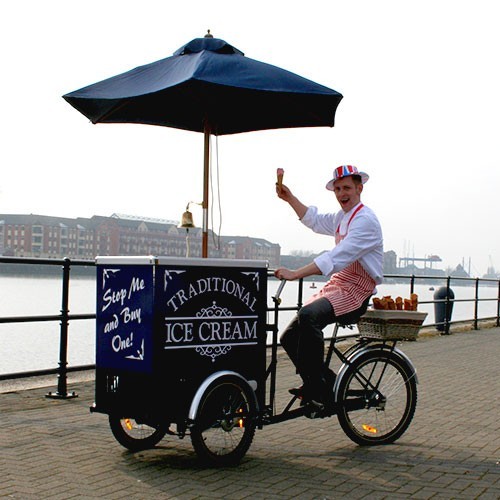 Sometimes you just need that pick me up don't you. And it can be as simple as a coffee and a catch up, or the click of a button on a web page with an order. But sometimes it's more that's needed...
---
So for Random Acts of Kindness 2022 - or any other day - what are you going to do to spread the fun, to share the joy, to show an act of kindness?