The Fun Experts Donate to Blackpool Zoo
---
A Good News Story to brighten up your day!
We've had to keep quiet for the last week but now The Fun Experts can tell you about an amazing story!
Keepers at Blackpool Zoo were in recent need of help. It turns out that a couple of their residents have big appetites, like HUGE appetites...and they have a taste for freshly made popcorn.
As you can imagine, trying to pop that much corn every day for some very hungry animals is a mammoth task...in fact, it was taking two days to make a kilo of popcorn that was gone in a second!
When we heard about the Zoo's plight - there microwave was out of action and it just wasn't making enough! - The Fun Experts were more than happy to donate one of the actual Popcorn Machines to the Zoo!
And what a difference this is going to make for them...now taking just an hour to make a kilo and keep some very excited animals very happy indeed!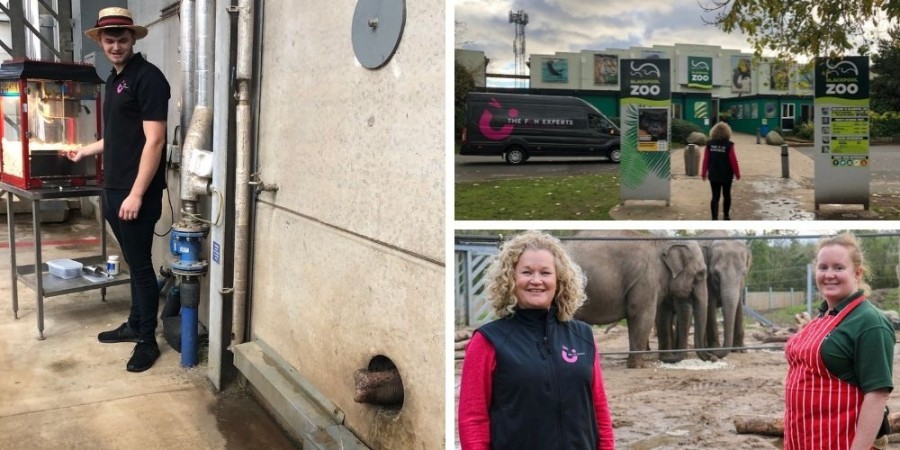 Lauren Shields, large mammal keeper at Blackpool Zoo said: "We are always looking for new and innovative ways to add healthy options to the menu for our animals and following research and advice we introduced popcorn to our herd of six elephants, six gorillas and four orangutans.
"That meant that we needed to source a cost-effective option to make it, but it soon became apparent that the microwave wasn't the best solution.
"We explained our predicament to our marketing team and they called The Fun Experts - who immediately agreed to donate a popcorn making machine.
"Not only does it massively cut down the time and electricity it takes to make the popcorn, but because it's a traditional popcorn making machine, it reminds me of walking down the Promenade in Blackpool on a sunny day.
"Within minutes the entire elephant house smells delicious, which attracted the attention of our herd, as well as a lot of keepers, who were all delighted with our new, more environmentally friendly machine. I would like to thank the Fun Experts for their very kind donation, it will make a massive difference to our days."
You can read the full story here! And if this has made you slightly peckish, with a bit of a sweet tooth too, then why not take a look at our range of Fun Foods and see how you can include the perfect recipe for your events.