New for Christmas 2023!
---
We're getting round to that time of year where shops and supermarkets are revealing their Christmas ranges, so we suggest you get some practice in and go through our range of Christmas Entertainment and circle your favourites! Our little helpers have been very busy this year adding some new equipment to our range of festive fun, which are definitely going to be on your Christmas list this year, so check them out before you do...
Christmas Bounce a Ball
This addictively fun arcade game has proved extremely popular at events all year round from Exhibitions to Evening Events and is always a hit amongst the most competitive of guests. When you hire our new Christmas Bounce a Ball, the game remains the same just with a festive twist, as you go head to head with your opponent, bounce the balls into the holes and watch as the scoreboard lights up. Now what's the festive twist, you might be wondering... as Player 1 or Player 2, you'll be representing either the red or blue team of penguins as they battle it out in one big snowball fight! Guests at your Christmas party will need skill as well as speed to be the first to light up up the board and be crowned the emperor penguin.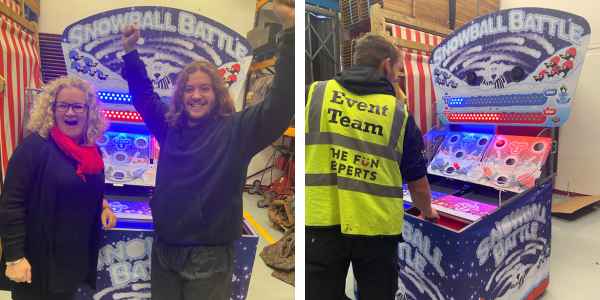 Magic Selfie Mirror with Christmas Theming
Our Magic Selfie Mirror has been providing fun at Christmas parties for years, as come December we're used to swapping funky props including hats and glasses for elf ears and reindeer antlers. This year, we're taking the Selfie Mirror to the next level for Christmas party season and kitting it out with full festive theming including a winter wonderland backdrop, red carpet, prop Christmas trees and snowmen. We're hoping this will really put the magic in Magic Selfie Mirror and help you to capture some special Christmas memories.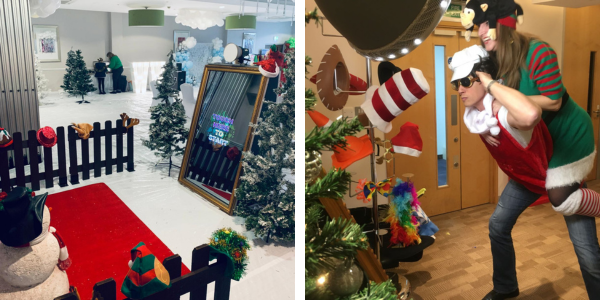 New Festive Games
It wouldn't be a Christmas party without busting a few moves (especially when you've got a couple of drinks down you!) and with our new Dance Machine inspired by the arcade classic, your guests can get their groove on when they select their favourite festive tunes from Michael Buble to Mariah and follow the arrows on screen to see who will be crowned the dancing queen!
The Prize Crane Grabber is another latest addition to our range of Christmas Entertainment and its festivity comes from the fact that it can be filled with any gifts of your choice. So when you successfully grab one of the plastic balls and drop it down the chute, it's kind of like opening up your stocking on Christmas morning!

Festive Funfair Stalls
That's right, there's more where that came from! We're currently in the process of creating new Christmas themed carnival games, so you've got those to look forward to before Christmas rolls around but in the mean time, there's plenty of festive Funfair Stalls to go around from our Snowball Toss to Christmas Pudding Shy to Penguin Skittles...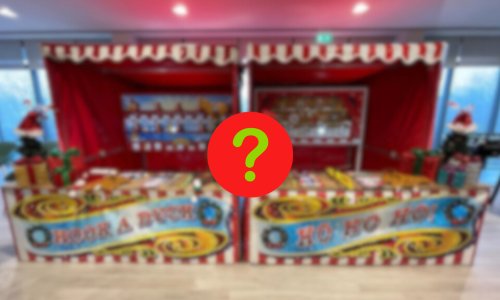 So have you got your eye on any of our Christmas kit yet? There's really no time like the present to Get Booked In before certain dates are sold out! We hope we've made you feel a bit more festive this September Friday and look forward to planning your Christmas party with you soon!